Classic literature is a favourite among the old and young alike, with many modern adaptations from classic literature hitting our big screen over the years it's clear to see the demand for movies based around praised and recognisable literary greats is as prevalent as ever. However as much as we may love the classics it's sometimes good to mix things up a bit.
This handpicked list of modern adaptations from classic literature stray just far enough from the original to offer something new and successfully grab our attention by providing an unusual twist on the familiar and beloved stories that have stood the test of time.
1. Pride and Prejudice and Zombies ( 2016)
Zombies may not be the first thing many writers think of when wanting to create a modern adaptation from classic literature and Jane Austen probably wouldn't have thought her beloved characters would have turned into fearless zombie killers but this recent hit has proved our love for classic literature and zombies is still as strong as ever.
We're seen many film adaptations of Pride and Prejudice but non stand out quite as much as this undead fest.
This adaptation sees Elizabeth Bennett as a weapon wielding warrior who joins forces with skilled zombie killer Mr Darcy as they try and save the world from the living dead.
2. Dr Jekyll and Sister Hyde ( 1971)
Hammer house productions take on Daniel E. Bandmann's Strange case of Dr Jekyll and Mr Hyde but in this classic adaptation we see the the mild mannered scientist attempt to make an elixir of life from fresh female corpses and wipe out diseases believing this will work as women live longer than men. The result? After drinking the serum Dr Jekyll transforms into an actual woman who of course turns out to be evil and soon begins killing women to enable her to take over Jekyll's body permanently.
3. Billy the kid vs Dracula (1966)
What does Billy the kid and Dracula have in common? Absolutely nothing which is what makes this film so innovative. Taking inspiration from Bram Stoker this low budget horror- western features infamous outlaw Billy the Kid and the well known Dracula come face to face as Dracula plots to make Billy the Kid's fiancé his vampire bride.
4. Dante's Inferno (2007)
Darkly satirical and certainly an interesting and an undoubtably modern adaptation from classic literature, this 14th century story- Dante's Inferno is retold using hand-drawn paper puppets and miniature film sets as we follow a paper Dante as he takes a tour through hell after waking up with the worst hangover in history.
5. Scotland PA ( 2001)
This modern adaptation of Macbeth takes place in Scotland, Pennsylvania in a fast food restaurant in the 70s. Gone are the witches and instead it's three hippies and a fortune teller that trigger the actions of Macbeth after informing restaurant workers Joe Macbeth and his wife Pat that they can see his future in management resulting in the couple hatching a plan to kill their boss.
Do you know any stranger modern adaptations from classic literature? Let us know in the comments.
Want to know more about the films we make? Sign up to learn more about our process, our projects, the upcoming premieres and grab our  FREE e-book (click on the cover below)!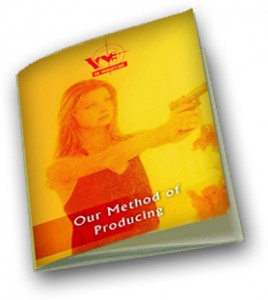 Follow us through our social media on Twitter, Facebook, Google+, Pinterest, Tumblr, Instagram and Goodreads
We hope to see you back here soon!-