"It's the possibility of having a dream come true that makes life interesting."
–Paulo Coelho, The Alchemist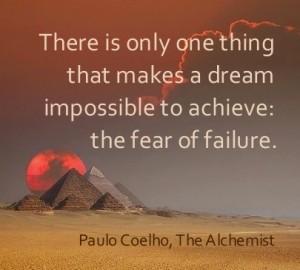 Fun Facts:
Translated into at least 67 languages since the year 2009

Coelho wrote the novel in just two weeks, claiming that the story was already written in his soul.

Has sold 65 million copies worldwide as an unexpected bestseller
Literature Meets Pop Culture:
Though Coelho has been consistently reluctant to sell the rights to his books, Warner Bros. managed to do so in 2003. However, the project soon fell apart due to creative differences and Coelho's offer of two million dollars to repurchase the rights to his novel.

Harvey Weinstein purchased the rights in 2008 with actor Laurence Fishburne in mind for the lead role. Much to Coelho's delight, Weinstein expressed his complete dedication to honoring the author's creative vision.

There are also illustrated versions of the novel as well as a widely successful theatrical production performed by the Cornish Collective.
Synopsis:
An Andalusian shepherd boy named Santiago consults a fortune teller about his mysterious and vivid recurring dreams. He is told that these dreams are actually prophetic and will lead him to glorious treasures located in the pyramids of Egypt. While on his quest, he meets an old king and learns that he is living his Personal Legend, or an individual's destiny to accomplish his or her most important goal. Santiago also meets an Englishman along the way, who is seeking the wisdom of an alchemist. The shepherd boy later encounters this alchemist and is reminded that his Personal Legend as a whole holds much more significance than the mere treasures that he seeks.
If you enjoyed this article, please visit VM Productions' Recommended Books and Films.
Message to Our Readers:
What did you think of Santiago's epic quest? Have you lived your own Personal Legend? Do you know somebody who has done so?
Tell us what you think, join our discussion forum!