Zen and existentialism appear to be bitterly opposite philosophies. At least that how perceptions appear to those who don't delve deeply into either philosophies. Those perceptions do harm opinions about the philosophies. Zen theory suffers from the stereotypical depiction of being little more than superfluous "new age feel good" sentiment. Existentialism suffers from its unfair link to expressions of cynicism and misanthropy. Neither assessment paints the proverbial true and full picture. Both philosophies, while completely different in style, root themselves in a desire to see and experience life for what it truly is. Life's not always enjoyable or stress-free. Reality doesn't go hand-in-hand with perfection and happiness.
Granted, when both philosophies use the word "suffering," they connect themselves to a downbeat impression.
In Notes from the Underground, Fyodor Dostoevsky speaks through his main character when expressing the sentiment that "suffering and pain" remain essential aspects of life. Zen Theory suggests the eternal truth "Life is suffering." A cursory examination of these sentiment lead to inferences that life is ugly and depressing. Or, that is the life is chosen by those living miserable existence. Worse, that's how life is lived by those who refuse to pick themselves up from difficulties. (See all this play out in the modernized film adaptation Notes from the New World)
Embracing one's misery as fatalism is not what these two philosophies try to get across in their sentiment. They're actually promoting a more upbeat sentiment.
"Life is suffering" generally refers to acceptance of a normal truth to life. Things aren't always positive. Stress, disappointments, and annoyances — great and small — exist in all people's lives. You can't live life without having a bad day or week at some point. So accept it. Once you accept the inevitable nature of suffering, the shock of a less-than-desirable day won't always impact you as hard. Embracing an acceptance of the occasional "no good miserable day" diminishes its shock effect. You deal with things better when you know they are coming. Refusing to accept the universal truth about life's less-than-perfect construct leads to shock and anger when troubles arise.
(Film fans might not run out of shocks when watching Notes from the New World.)
In Dostoevsky's existential theorizing about the value of suffering and pain, we see a peripheral connection between existentialism and Zen theory. "Life is suffering" extends to "Life needs suffering."
Suffering proves someone is alive. Once you aren't suffering or putting yourself into positions in which you can experience setbacks and disappointments, you likely live a sad, limited existence. Albert Camus' existential masterpiece The Stranger put forth the notion "No man is an island unto himself" since humans must interact with others. Of course, The Stranger did everything he could to avoid interactions with others — to his own miserable embrace of a lonely existence.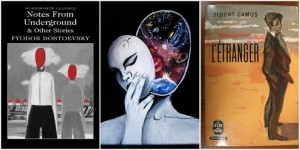 The Narrator of Notes from the Underground shares the dark outlook on life as The Stranger's hero and both do embrace the simple truth of "Life is suffering." People do maintain a refusal to accept suffering as an important — almost welcome — part of their existence. So their suffering really does make them suffer.
Please check VM Productions' movie  Notes from the New World inspired by Notes from the Underground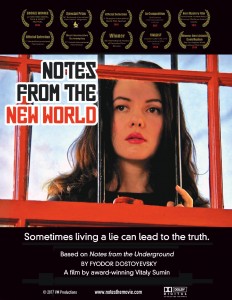 ——
*/I suddenly called to mind a picture I had noticed at Rogozhin's in one of his gloomiest rooms, over the door. He had pointed it out to me himself as we walked past it, and I believe I must have stood a good five minutes in front of it. There was nothing artistic about it, but the picture made me feel strangely uncomfortable.
Edited & images: VM Productions
Want to know about VM Productions' Dostoyevsky-Los Angeles Project and about the films we make? Want to participate in our projects? Sign up to get tickets to the premiere of our movie (currently in post production), Dostoyevsky Reimagined-BTS and
grab our  FREE e-books !

Follow us on Twitter, Facebook, Google+, Pinterest, Tumblr, Instagram, Goodreads.