Recently, the subject of American Politics has gotten me thinking about Dostoevsky and his known work. As many people know, Rand Paul, a senator from Kentucky, is running for president. As some may also know, Paul and his family are fans of the Russian philosopher and novelist Ayn Rand; so much so there are numerous rumors that Rand was the inspiration for Paul's first name. Whether the rumor is true or not, it got me thinking about Ayn Rand, who always makes me think of Dostoevsky. The reason for this is not as obvious as it probably seems; simply put, Rand's philosophical views always make me think of Dostoevsky's not because their views are in any way similar, but because they are quite opposite. Nowhere is the difference more notable than in Dostoevsky's masterful novel Crime and Punishment.
Crime and Punishment's main character, Raskolnikov, is at the outset of the novel a perfect example of Rand's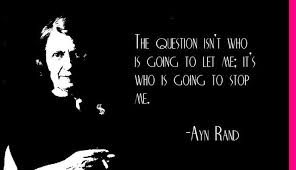 philosophy in action; he cares only for himself and his own needs, takes no consideration for the lives of others (hence the crime in Crime and Punishment) and generally considers himself to be above the moral conventions society follows. Ultimately Raskolnikov's rather twisted personal philosophy leads him to murder two people whom he views as being less worthy than himself, while in the pursuit of objects he desires.
Interestingly, Crime and Punishment could be viewed as an extended look at why Rand's philosophy of selfishness doesn't really work when applied to human beings existing in a society. Dostoevsky's novel explores human beings' need for each other, our need for selflessness in our interactions with others, and the consequences of selfish actions. Though Rand always claimed her philosophy didn't imply anyone had the right to impose their own views or goals on anyone else, it seems the only realistic outcome in a world full of people with opposing views and goals. There will always be a clash when people come together, but that doesn't mean we can or should live without other people, as is illustrated in Crime and Punishment.
Dostoevsky's novel explores what happens when we do explore a life of selfish devotion to one's own ends. Raskolnikov kills two people in the pursuit of his own ends, and spends the rest of the novel mentally deteriorating as the weight of his guilt and his need to confess slowly crush him.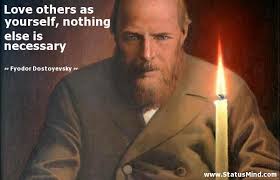 Ultimately it is the selfless acts of human kindness and understanding from Sonya which leads Raskolnikov back to mental stability, and enables him to confess his crimes and accept the punishment society deems appropriate. Thus it is only in his acceptance of the socially sanctioned morality he so despised at the beginning of the story, that Raskolnikov is able to be absolved of his crushing guilt and truly become a better person, a person worthy of other people. So Dostoevsky's object is completely contrary to Rand's, pointing out that people need to be selfless in order to be happy, where Rand claims we need to be selfish in order to be happy.
Oddly enough, Raskolnikov at the beginning of Crime and Punishment always reminds me of the Underground Man from Dostoevsky's Notes from the Underground, or rather, of what the Underground Man must have started out as. I think the Underground Man is what Raskolnikov would have turned into if he had never been redeemed by Sonya's love and understanding, never accepted society's punishment for his selfish act, and never learned to overcome himself for the good of others. While I don't necessarily think it's what she intended, I think Notes from the New World would probably be the best modern interpretation of Rand's philosophy played out to its inevitable conclusion, while Crime and Punishment is Dostoevsky's attempt to show people how much they need selflessness.
And that is why American politics makes me think of Dostoevsky.