One of the most successful indie film stories in modern history involves a little bit of luck, the world-famous Sundance Film Festival, and Dostoevsky's seminal work The Brothers Karamazov.
The 1995 film The Brothers McMullen, written by, directed by, and starring indie filmmaker Edward Burns, certainly is not a strict book-to-movie adaptation of Dostoevsky. Rather, it's a romantic comedy about Irish Catholic brothers growing up in their parents' house in Long Island (which some might claim to be the Siberia to New York City, but it's certainly a far cry from exile). But the title obviously alludes to The Brothers Karamazov, and the three brothers who are the focus of the film present such similarities the Karamazovs that Dostoevsky's influence cannot be ignored.
The three brothers McMullen—Barry, Jack, and Pat—are each entwined in less than traditional love affairs. These situations take the form of triangles, quadrangles and other embarrassing angles, just as the Karamazovs do. Barry, Pat and Jack also suffer from some of the same longings and jealousies that plague the brothers Karamazov in their 19
th
century romantic pursuits.
As Roger Ebert describes
, the unique angle of the McMullen brothers' love affairs is that their "struggles have less to do with sex than with morality." This can easily be said of the entanglements the Brothers K. find themselves in. And finally, the personalities of the three McMullens are as widely varied and as contentious to one another as Dmitri, Ivan, and Alyosha Karamazov.
Dostoevsky wrote his seminal work just four months before his passing in 1881. In addition to the twisted up romantic elements and the deep discussions of religion, philosophy, sin and morality, The Brothers Karamazov is somewhat autobiographical – as is Burns' McMullen. Dostoevsky draws from his own traumatic experience of being led by his captors to believe that he and his fellow prisoners were to be executed for their crimes. The execution turned out to be fake, a cruel and unusual prank of sorts devised by his captors to psychologically punish him and his fellow prisoners.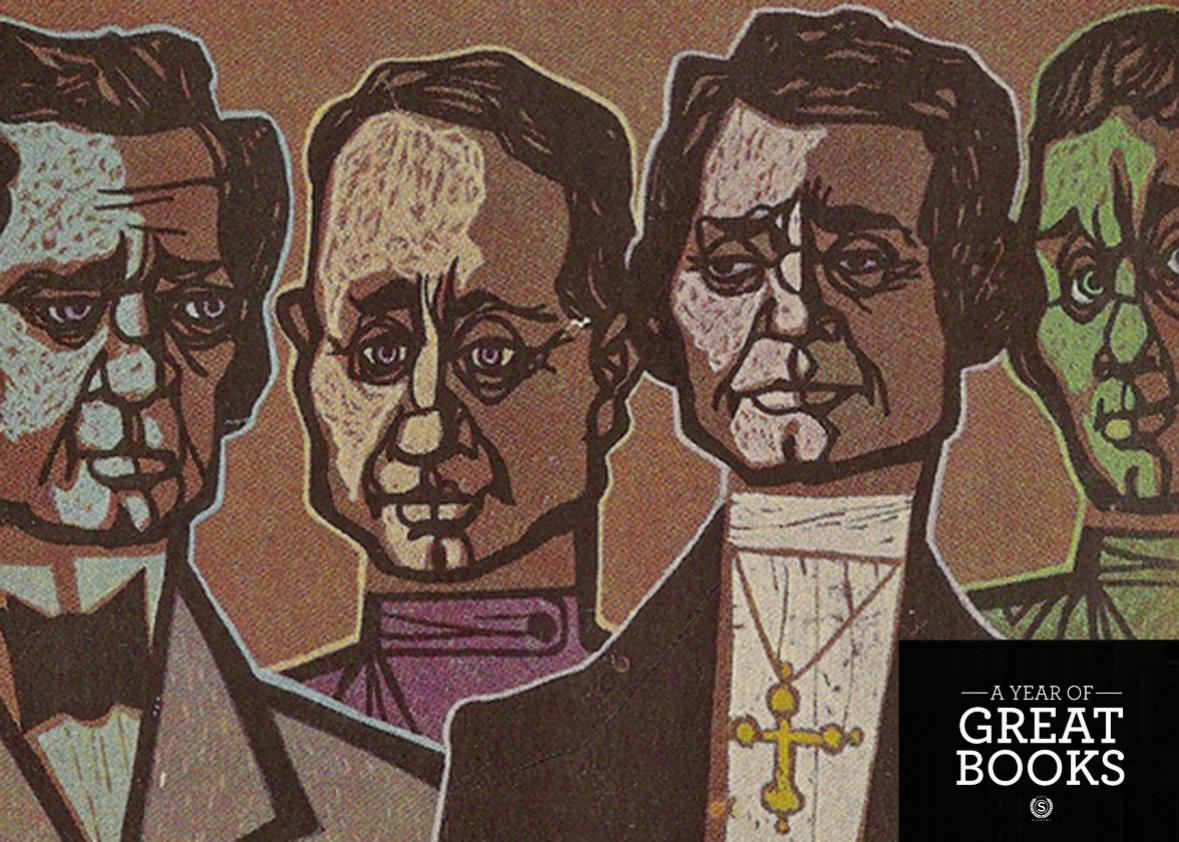 Dostoevsky draws on his experience with criminal proceedings when describing the accused Dmitri Karamazov's interrogation and courtroom experiences. Another Karamazov character, Smerdyakov, who is a servant to the Karamazov family as well as being the illegitimate son of the Karamazov patriarch Fyodor Pavlovitch, suffers from epileptic seizures – a condition which Dostoevsky himself developed during his time in Siberia. One could easily compare the experience of hard labor and psychological torture in prison to the experience of being placed servitude in the house of one's father, a father who never acknowledges their relationship.
*     *    *
Edward Burns' romantic comedy cost $28,000 to produce in 1995. It won the Grand Jury Prize at Sundance, Best First Feature at the Independent Spirit Award, and the Jury Special Prize at the Deauville Film Festival. Due to in large part to its festival circuit success, it received distribution from 20th Century Fox and grossed over $10 million at the US box office. This feat would have been impossible for an indie film if not for the help of festivals dedicated to the purpose of highlighting new and emerging artists.
It also didn't hurt that Edward Burns had a low-level production gig on the TV show Entertainment Tonight, which allowed him the opportunity to slip Robert Redford a copy of his film as Redford stepped onto the elevator after an interview. A huge part of independent film production involves hard work, the moxie to approach the unapproachable, and enough copies of your film to litter the proverbial streets of Hollywood.
With the spread of the novel coronavirus and the death toll from COVID-19 rising daily around the globe, one of the large gatherings that recently fell victim to the pandemic was the Festival at Cannes. Cannes isn't the first film festival to be canceled in 2020, this year of the pandemic; South by Southwest (SXSW), which isn't strictly a film festival but is a huge event that indie film artists rely on heavily for exposure, was one of the first major US events to be canceled this year. But Cannes is by far the largest—and perhaps the most important—film festival to fall (so far) in 2020. Cannes' mission isn't dedicated to indie films exclusively, as festivals like Sundance and Tribecca are, but it's one of the largest and most prestigious platforms for indie film artists to network, to showcase their talent, and to ultimately find distribution—the holy grail for any independent film production.
The fates of other indie film festivals in the coming months are as-yet undetermined. But with the spread of this insatiable virus and the lack of any unified effort or contingency plan in the US, it seems very likely that independent film productions for 2020 will not see the same lives they have in the past.
There is, however, still hope for the indie film and its makers.
*    *    *
With stay-at-home order in place across the country, and large gatherings banned for the foreseeable future, the drive-in movie theatre with its ability to contain the movie-watching experience to the safety and privacy of one's vehicle, is experiencing a renaissance.
Recently, an indie film called The Wretched, a supernatural horror film released by the independent label IFC, has made over $200,000 in box office from drive-ins alone. Those drive-ins are, in some cases, only open one night per week – which means that only a fraction of the traditional number of showtimes is available to make that box office cash. As AP News says, "In pre-pandemic times, [$200,000] would be considered a solid opening for IFC. In the current climate, it's a big hit."
Actor Charlton Heston plays Moses with arms flung wide in the motion picture "The Ten Commandments," shown at a drive-in movie theater in 1958. (Photo by J. R. Eyerman/Life Magazine/The LIFE Picture Collection/Getty Images)
Streaming, of course, is another potential venue for indie film to remain viable as we forge a new normal with the presence of a global pandemic. Netflix, Hulu, Amazon Video, and other streaming services have skyrocketed their number of subscribers, options, and offerings since March 2020. However, as their numbers have seen unprecedented growth, this means that unfortunately their streaming speeds have suffered as well. Since the drive-in relies solely on good old-fashioned cinema technology, and since major studios have slowed or stalled all production in the time of coronavirus, drive-ins might be better-positioned to boost indie film than just about any other resource.
But, then again, your absolute best bet for entertainment while isolated might just be a good, sturdy, Russian novel.
* * *
VM Productions is happy to announce that the pre-production of our feature length project Crime & Punishment, LA – following by the shoot of the movie – is scheduled to begin on Tuesday, September 8th, 2020 in Los Angeles! http://www.vmpfilms.com/#August_
Crime and Punishment, LA, represents the third chapter of VM Productions ambitious Dostoyevsky-LA Project (following the completed movies Shades of Day & Notes From the New World) – a re-envisioning of Dostoyevsky's classic novel transported to LA during the riots of 1992. C&P, LA -currently in the active development- was selected, as the winner, for the European Co-Production Matchmaking Program at SXSW –https://bit.ly/324e5kD
*****
Want to know about VM Productions' Dostoyevsky-Los Angeles Project and about the films we make? Want to participate in our projects? Sign up to get tickets to the premiere of our movie (currently in post production), Dostoyevsky Reimagined-BTS and grab our FREE e-books !

Edited (& the visual material – fair use) by Heather Nowlin
Fair Use. For educational purposes only.
Follow us through our social media on
Twitter, Facebook, Pinterest, Tumblr, Instagram, Goodreads.