As aquatically conscious rapper Mick Jenkins would say: "water [is] more important than gold." This could not be a truer fact, especially in today's age of climate change. Being a lifelong resident of the Los Angeles area, I am well-versed in the language of water conservation and drought hysteria. Even with the early stages of El Niño slowly making headway, Southern California is still far from being out of the dehydration danger zone and might never truly reach that point (at least not for quite some time). The woes of this modern-day crisis are deeply felt in Roman Polanski's Chinatown. His 1974 Neo Noir stars Jack Nicholson and Faye Dunaway, and won the 1975 Oscar for Best Original Screenplay (which went to Robert Towne). Chinatown delves deep into the murky waters of murder and corruption roiling beneath Los Angeles' sun bleached surface.
J.J. "Jake" Gittes (Jack Nicholson) is a snarky private investigator who exudes the perfect combination of classic Nicholson sass and subdued self-confidence. Gittes, an ex-cop working in Los Angeles during the height of the infamous California Water Wars, takes a case which he believes to be another typical exposé of an unfaithful spouse. However, he soon finds himself tumbling down a rabbit hole of murder, abuse, and corruption involving the city's high-profile figures. Nicholson's portrayal of Gittes is perfect as he fully embodies the role of a dedicated yet complicated private investigator. Faye Dunaway's performance as a strong woman with a horribly troubled past is also extremely moving.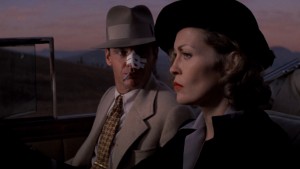 Chinatown is fraught with striking imagery that captures the film's overall tone. Most noticeable is Polanski's frequent visual juxtaposition of  Noah Cross's (played by John Huston) lush lifestyle with dying land surrounding his tainted oasis. His menacing character flaunts massive wealth on a luxuriously green estate while the rest of the city withers and gasps for nourishment. This stylistic technique starkly illustrates Cross as the epitome of selfishness and corruption.
Additional symbolism can be found in Jake's facial bandages, which he wears for a majority of the film after being viciously wounded by the creepy man with a knife (played by Polanski himself). Jake's white bandages centrally cover a good majority of his face, and when combined with his fedora and circular dark glasses, cause him to bear a striking resemblance to James Whale's Invisible Man (1933). Though not shy by any means, Jake must rely on aspects of invisibility in his line of work in order to uncover the truth and maintain as much secrecy as possible when dealing with the constant presence of danger. However, Jake's invisibility is just as much a prison as it is a sanctuary. Jake certainly intentionally operates in secrecy throughout the film, but realizes by the end that he is the only one who knows the entirety of the awful truth and that he is powerless to do anything about it. He learns just how deeply the city's poisonous corruption runs and is doomed to remain a faceless victim of it. The film ends with a defeated Jake told to forget everything he has seen and learned.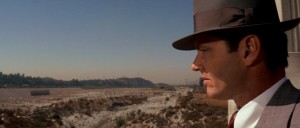 Chinatown is both a thrilling mystery ride and a haunting look at the massive wake of destruction left behind by the evils of corruption and greed. Jake coyly and often humorously weaves his way from one clue to the next during most of the film but is rendered speechless and truly devastated by its end as he finds himself face to face with a seemingly impenetrable monster. Though Chinatown was released over forty years ago and is set in a time period of over seventy years ago, its message and recurring themes have never been more relevant. As March blossoms into Springtime, we could all benefit from a re-watching of Chinatown and take time to reflect upon the importance of conservation, environmental awareness, and above all else, the necessity of political integrity.
If you enjoyed this article, please visit VM Productions' Recommended Books and Films.
For more VMP Film and Literature Club posts be sure to visit us at home and sign up for our free newsletter at Dostoyevsky Reimagined: The Making of Notes from the New World. You'll gain exclusive access to our members-only content and the incentives.
Follow us through our social media on Twitter, Facebook, Google+, Pinterest, Tumblr, and Instagram.