"The highest and most characteristic trait of our people is the sense of justice and its thirst."   ~ Fyodor Dostoevsky
The summer of 2020 has us waiting in an infinite loop for new movies, such as Christopher Nolan's much anticipated new action mind-bender Tenet, Disney's Mulan, and Patti Jenkins' Wonder Woman 1984. The recurring pushback of release dates due to surges in case counts of Covid-19 all across the U.S. has streaming services booming while we revisit canonical older works like the Dark Knight Trilogy instead.
It's not the most lighthearted way to spend a summer, but it can offer some new insights – especially when paired with Russian classics, like Dostoevsky's seminal novel Crime and Punishment.
Superheroes, whether in comic books, films, or Russian classics, all come with origin stories.
We probably all remember Batman's origin story. At the beginning of Bruce Wayne's journey from kid to hero in Batman Begins, we see his parents killed by Joe Chill, a petty criminal who mugs the Wayne family as they leave the opera. The situation escalates and Chill kills both of Bruce's parents as Bruce looks on. Chill is arrested and serves 14 years in prison. Bruce, understandably traumatized, spends those same 14 years plotting his revenge on Joe Chill for his heinous crime.
When the day of Chill's release arrives, Bruce waits in the side halls of the courts as the killer passes. Bruce hides a gun in his pocket, and a vengeful wish in his heart. He's planned a murder, one that he feels is justified by the circumstances – just as the hero of Crime and Punishment, Rodya Raskolnikov, plots out what he feels to be a justified murder of a local pawnbroker to whom the poverty-stricken population of their town is indebted.
When it comes time for Bruce Wayne to carry out his act of revenge, his plans are interrupted by another criminal with a similar plot: The crime boss that Chill agreed to testify against, thus freeing him from prison, has hired someone to get revenge as well. It is that murderer's bullet, rather than Bruce Wayne's, that finds its way to the heart of Joe Chill.
In Crime and Punishment, however, Raskolnikov's plans are not interrupted. Instead, Raskolnikov not only carries out the killing of the nefarious pawnbroker, but also of the mild-mannered and innocent-hearted Lizaveta, who has the ill-fated misfortune to enter the scene at exactly the wrong moment. Raskolnikov kills her, too, eliminating all witnesses to his crime.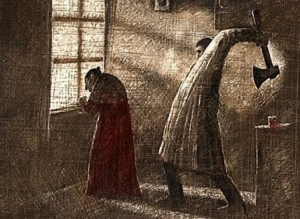 At first glance, one might assume that it was the successful hired gun who killed Joe Chill that saved Bruce Wayne from a life of crime and the ensuing punishment that followed Raskolnikov – punishment of his own conscience's making, and actual hard labor and time served in Siberia later on. However, a scene immediately following the killing of Joe Chill between Bruce Wayne and his lifelong friend and eventual love interest Rachel Dawes reveals that, even though his actions were thwarted, his frame of mind was still exactly the same as the unfortunate Raskolnikov.
The following scene is the first moment in which we see Rachel become Bruce's mentor, allowing him to eventually overcome his reluctance along his hero's journey:
After Rachel shows him the difference between justice and revenge, and after Bruce sees how the mob boss Falcone keeps a chokehold on Gotham's citizens through poverty and addiction, Bruce eventually finds his true path. He commits to helping victims find justice for the wrongs that have been done to them, while avoiding the gratification of revenge for those same victims – himself included.
Before he sees the light, Bruce Wayne had the mindset of a criminal. In short, even though he was stopped from actually committing murder, he still believed in his heart that the murder of Joe Chill would have been the right thing for him to do – just as Raskolnikov believed his crimes of killing the pawnbroker and the witness had been justified for the bulk of the Russian classic novel, even after the crime was done and he was suffering the inevitable human pangs of conscience from it.
There are many other times when Rachel Dawes provides Bruce Wayne with insights into how to be a better human throughout the Dark Knight Trilogy. Our dear Raskolnikov, however, has no such moral compass – until, that is, he finally confesses his crime to his beloved Sonia – a pure-hearted but unfortunate girl sullied by the world out of desperation caused by poverty.
Once Sonia becomes aware of Raskolnikov's misdeeds, she doesn't leave him as he had feared she would. Instead, she encourages him at every turn to confess his crimes, and to stop the internal suffering of his conscience so that he can truly be healed. She stays by his side through all of this, and even as he is sentenced to the labor camps of Siberia, she supports him in his efforts to make amends for his crime. When Raskolnikov finally gives in to tug of atonement, and breaks down in sobs of grief, Sonia remains by his side.
Bruce Wayne only avoided the same fate of antiheroes of the Russian classics by having someone show him the way of truth and justice before he had the opportunity to commit a crime.
If only Raskolnikov had had someone like Rachel Dawes, who could show him the difference between justice and self-gratification before actually committing his crime, perhaps he could have been a superhero instead of an antihero.
* * *
Crime and Punishment, LA, represents the third chapter of VM Productions ambitious Dostoyevsky-LA Project (following the completed movies Shades of Day & Notes From the New World) – a re-envisioning of Dostoyevsky's classic novel transported to LA during the riots of 1992. C&P, LA -currently in the active development- was selected, as the winner, for the European Co-Production Matchmaking Program at SXSW –https://bit.ly/324e5kD
*****
Want to know about VM Productions' Dostoyevsky-Los Angeles Project and about the films we make? Want to participate in our projects? Sign up to get tickets to the premiere of our movie (currently in post production), Dostoyevsky Reimagined-BTS and grab our FREE e-books !

Follow us through our social media on