Happy Valentine's Day from everyone at VM Productions!
February is the month that prompts many to think about love, though not always in the most positive light. Some bask in the romantic traditions of Valentine's Day while others heartily scoff at its obnoxiously clichéd notions, shrouding the once cheery holiday in a glaze of contemporary cynicism. I can certainly understand both dueling corners: an annual celebration of love versus a rebellion against superficial and highly commercialized standards/pressures of "love".
Taking these opposing (and often exhausting) views into account, I have come to realize that my favorite memories of Valentine's Day will always be the ones from my childhood at school, where love was thought of as a magical adventure read about in fairy tales and everyone dressed festively, spending their time exchanging cards (one for every single child in the classroom) and decorating some kind of paper container in which to place the cards at the day's end. This simple, inclusive celebration of love and friendship is something that I will always remember and cherish.
In today's film environment over-saturated with sappy romance after sappy romance, I often find myself retreating to my living room to watch Andy Tennant's Ever After: A Cinderella Story from 1998. Ever since my first viewing of it in theaters back when I was a child, it has remained as one of my favorite feel-good films. Its classic storyline interwoven with a fresh cast of characters including a strong and intelligent female protagonist creates the perfect elemental mix for a touching love story that hearkens back to those days of childhood whimsy and will bring a smile to the face of even the most rigid Valentine's Day grinch.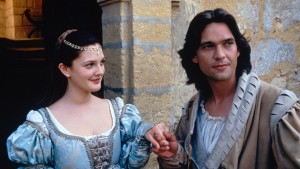 Ever After: A Cinderella Story stars Drew Barrymore as Danielle, a spirited young girl who is left in the care of her cruel Stepmother (played by the always brilliant Anjelica Huston) and stepsisters following the death of her father. Forced into servant labor in her own home, Danielle spends time in between chores educating herself and enjoying nature. One day, she finds herself engaged in a heated confrontation with Prince Henry (played by Dougray Scott), who is intrigued by Danielle's dedication and intelligence.
The two of them quickly develop feelings for each other, and in in classic Cinderella fashion, Danielle hides her current lowly status from Henry. But, atypical of Cinderella fashion, Danielle remains dedicated to protecting the rights of servants/lower class citizens and to decimating the damsel-in-distress trope.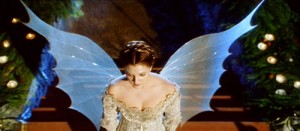 While Everafter stems from the basic blueprint of the Cinderella fairytale, it offers a great deal of new material and stands on its own as a completely organic film. Danielle, Henry, and the stepmother are all fully developed characters with complex motivations and conflicts. Andy Tennant also introduces a famous artist as a substitute for the fairy godmother, which cleverly brings both comic relief and sage insight to the story.
The film's refreshing characterization and plot is supplemented by stunning imagery and context that reflect the fashion, art, and history of 16th century France. In my opinion, Ever After: A Cinderella Story is the perfect film for Valentine's Day. It combines the elements of a whimsical fairytale with contemporary notions of strength and equality, ultimately producing a touching, cliché-free film that will remind you of childhood fairytale magic and love while also warming the hardest of hearts.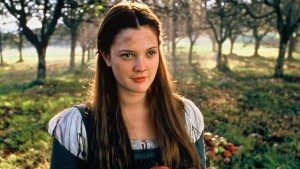 We hope you enjoyed this post. For more VMP Film and Literature Club posts be sure to visit us at home and sign up for our free newsletter at Dostoyevsky Reimagined: The Making of Notes from the New World. You'll gain exclusive access to our members-only content and the incentives.
Follow us through our social media on Twitter, Facebook, Google+, Pinterest, Tumblr, and Instagram.