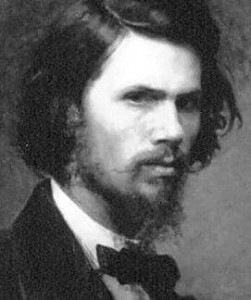 Recently I was moderating the Dostoyevsky-BTS Pinterest account, and I came across an interesting message from a user with the Pinterest profile name HadesIsDoomed. The message said, simply, "Not Dostoyevsky!" I had to investigate.
It turns out that HadesIsDoomed was responding to an article from moniquespassions.com that we had pinned because it was an interesting article about Dostoyevsky's life and was relevant to fans of Dostoyevsky-BTS. The photo (which I later learned was a painting) that came with the pin was of a handsome, intense-looking young man with swarthy looks and an intense gaze that stared out at the screen. He was someone one would associate with the great philosopher and novelist…but according to HadesIsDoomed he was not Dostoyevsky!
I have a strong background in journalism, and while much of that background has been used in industries less concerned with attributing proper credit where it is due, I still believe strongly in checking sources—even on Pinterest. So I attempted some due diligence and tried to find the source of the photograph, to no avail. I scoured the Internet for the portrait. While it was associated with Dostoyevsky in several different places, and while the brooding young man certainly resembled the man in portraits that were identified as Dostoyevsky, I couldn't find an attribute for either the portrait artist or the model in question.
I finally asked HadesIsDoomed if s/he knew the origin of the photograph. I was enlightened when s/he told me that the photo was actually of Ivan Kramskoi, evidently a famous Russian painter. The photo was a self portrait of Kramskoi when he was younger. HadesIsDoomed went on to explain that some people confuse Kramskoi with Dostoevsky because his portrait was used on a cover of a Dostoevsky's novel.
I've since learned that Kramskoi is very famous in Russia. Indeed, many painters, including Vasily Grigorievich Perov, who painted perhaps the most famous portrait of Dostoyevsky, were compared to him. But while I have a fairly comprehensive knowledge of the art world, Kramskoi had escaped me. I did not know anything about him. I wanted to learn more about this painter who was so reminiscent of a young Dostoyevsky, so I did some research. I was pleased to discover that Kramskoi's portrait on the cover of one of Penguin Classics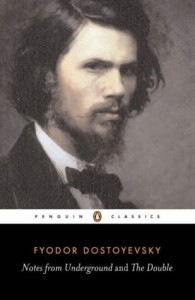 book  containing Notes From the Underground and The Double by Dostoyevsky was appropriate, not just because of his resemblance to the author and philosopher, but because of his own philosophies about religion, freedom, and the ideal of self-sacrifice for the sake of society.
Ivan Nikolaevich Kramskoi was a Russian painter and art critic, most well known for his portrait paintings. The award-winning painter Cathy Locke wrote a wonderful blog post about Kramskoi on the Musings of Art Blog, "A man in search of artistic truth and moral  values: Ivan Kramskoi (1837-1887)." In her post, Locke tells us that Kramskoi was responsible for the portraits of numerous famous Russian intellectuals, including A.D. Litovchenki (1878), Ivan Shishkin (1880), Alexi Suvorin (1887), and even Leo Tolstoy, notorious for having a tempestuous relationship with portrait artists. Tolstoy ended up becoming great friends with Kramskoi, and even created a character based on him in his novel, Anna Karenina.
Kramskoi was also an intellectual leader of the Russian democratic art movement in the late 1800's. Born to an impoverished petit-bourgeois family, he studied historical painting at the Imperial Academy of Arts in St. Petersburg, where he rejected the notion of "academic art." In 1863 he led a rebellion of fourteen students at the Academy, who became known as the Wanderers (Передви́жники – Peredvizniki – in Russian).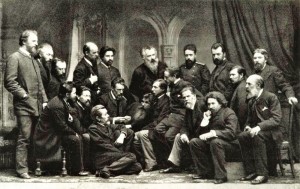 Передви́жники (Perdvizniki  -The Wanderers)
The Wanderers demanded to have the freedom to choose the themes of their paintings, an important freedom for any artist. Kramskoi went on to establish the School of Drawing of the Society for the Encouragement of Artists in 1863. He also, ironically, gave painting and drawing classes to the royal family for twenty years, starting in the late 1860's. But as Locke points out, "…it is important to note that his employer, Tsar Alexander II, was known as Alexander the Liberator because of his many reforms of Russia. This tsar emancipated the serfs and was the first ruler in Russia to put local self-government into law. In 1869 Kramskoi actually rejoined the Imperial Academy, perhaps due to the tsar's persuasion."
Kramskoi concentrated primarily on portraits throughout the 1860's, but in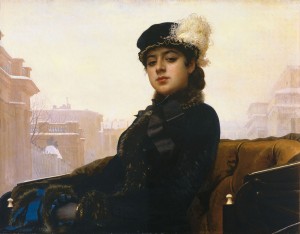 Portrait of the Unknown Woman by Kramskoi
the early 1870's he started to focus more on moral and ethical issues and the righteous ideal of the time. Out of this period came his critically acclaimed Christ in the Wilderness (1872), which showed the beauty and pain of self-sacrifice for the sake of society, a theme that Dostoyevsky came back to time and time again inhis novels, his musings, and his essays.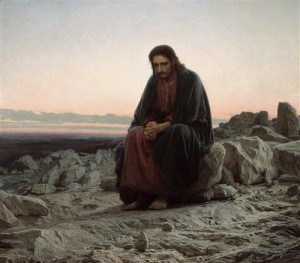 Christ in the Wilderness was painted nine years before Dostoyevsky died in 1881. Today it hangs in the Tretyakov Gallery in Moscow. I like to think that when Dostoyevsky saw the painting he was inspired by the pain and suffering and love depicted on the face of man sitting with his hands clasped, alone in the rocky desert against a soft light sunset. It would not surprise me at all to learn that the expression portrayed so beautifully and poignantly by Kramskoi found its way to the pages of Dostoyevsky's novels, expressed and beautifully and poignantly through his words. It is appropriate that the artist's self-portrait graces the cover of one of his novels.
We hope you enjoyed this post. For more VMP Film and Literature Club posts be sure to visit us at home and sign up for our free newsletter at Dostoyevsky Reimagined: The Making of Notes from the New World. You'll gain exclusive access to our members-only content and the incentives.Follow us through our social media on Twitter, Facebook, Google+, Pinterest, Tumblr, and Instagram.