Clicca qui per leggere questo blog in italiano
---
Hello everyone,
Yesterday was an unexpected sunny day in London so I decided to go out for a little film shopping. I walked in a little DVD and old VHS store in Notting Hill, where the sell only world films. Amazing isn't it? That place is pure oxygen for cinema lovers. If you ever come to London it's the place to go after Big Ben.
The store was old and dusty and there was still the smell of the VHS tapes in the air. While I was going through the films all lined up on wooden shelves, I finally saw it.
The Luchino Visconti's Masterpiece Le Notti Bianche based on the Dostoyevsky's novel, White Nights.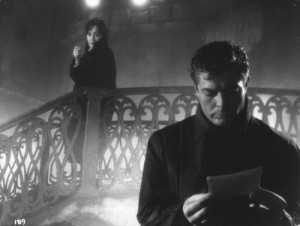 I was so exited as I haven't watched that film for long time, I also couldn't believe that the price was so expensive, £15 for a film released in 1957; but that didn't stop me, I bought it.
When I finally got home in the evening, I was so exited to watch this film I didn't even put my pajamas on. I inserted the DVD in the player and I stared, anxiously, at the old box in front of me. I fell in love again with the film after only 10 minutes of screening, it's impossible not to. The soundtrack was scored by the famous composer Nino Rota, famous for his work on The Godfather and Lost in Translation.
The film was produced by, Franco Cristaldi, who also produced Nuovo Cinema Paradiso.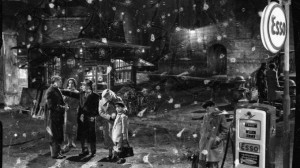 Le Notti Bianche was directed by Luchino Visconti, for fans of Italian cinema, he needs no introduction as he is one of the pioneers along with Pasolini, Fellini, and Antonioni.
Le Notti Bianche's cast are some of the most remarkable actors of that time. The most noted, Marcello Mastroiani, made famous by his work in films like La Dolce Vita and Divorzio All'Italiana.
The award winning writer Suso Cecchi D'Amico, also known for her work on the The Bicycle Thief, is accredited with writing Le Notti Bianche's story and screenplay with Luchino Visconti.
Anyway, I better stop being exited about how well organized and important the crew behind this masterpiece is, you are clever people, you're going to find out by yourself.
After watching the film, I decided not only to share this film with you but also to share other masterpieces inspired by the Fyodor Dostoyevsky's novels.
Here below I listed some of the greatest films inspired by Dostoyevsky's work. I also added links to their IMDb pages and trailers.
 LE NOTTI BIANCHE (1957) Directed by Luchino Visconti
SAAWARIYA (2007) Directed by Sanjay Leela Bhansali
 THE DOUBLE (2013) Directed by Richard Ayoade
STRANGELY IN LOVE (2014) Directed by Amin Matalqa
By watching these previous films we are be able to understand and appreciate Dostoyevsky Reimagined
DOSTOYEVSKY REIMAGINED: THE MAKING OF NOTES FROM THE NEW WORLD-BTS (2015) Directed By Vitaly Sumin
Enjoy these diamonds of film-making, and please comment below with some feedback, I want to know what you think of these titles and which is your favourite.
Have a good weekend.
Always yours,
Carlo Saccenti
Visit me at home: Dostoyevsky Reimagined: The Making of Notes from the New World
Don't forget to check out the Twitter, Facebook, Google+, Pinterest, Tumblr, and Instagram too.