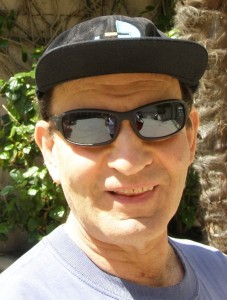 Award-winning filmmaker Vitaly Sumin keeps his influences close to his heart. While many filmmakers try to diminish (or outright deny) the books and movies which helped shape their art, Sumin has always proudly shared his enthusiasm and love for film and literature. Anyone who doubts his devotion to his favorites need only see Notes From The New World (Notes), which is truly a love letter to some of the director's most beloved sources of inspiration.
Instead of doing a standard adaptation of one of his favorite authors, Sumin opted for something more daring: a reimagining of a classic of Russian literature. Taking the beloved novel Notes from the Underground by Fyodor Dostoyevsky, Sumin managed to add his own inimitable insight and style to this essential piece of writing. The dark roads of Russia are exchanged for the sun-drenched streets of Los Angeles, and all the colors and vibrant characters that accompany it. Yet despite this and other changes, the story remains at heart Dostoyevsky's timeless story about morality, identity, and the nature of courage.
Now given the nature of the film, it's no surprise the influence of Dostoyevsky is present throughout (after all, it would be something of a travesty to have a film inspired by the Russian master which didn't hold that distinct air) but Dostoyevsky isn't the only influence inspiring Sumin throughout Notes. The tone and style of the movie has distinct echoes of the great Haruki Murakami's dreamlike writing, the surreal nature melds surprisingly well with the stark and bizarre story Dostoyevsky weaved to create a tale which is wholly unique.
When filmmakers have strong influences (and no problem sharing them), they run the risk of being decried as "derivative." This explains why so many creative people (in particular those just starting out in their careers) are so hesitant to name their inspiration. But having clear reference points doesn't have to be a negative; in fact, as Vitaly Sumin's work deftly shows, it can be a benefit to both the creator and their work. By acknowledging freely the sources which shaped the artist, audiences can share in and enjoy the inspiration. In fact, those who are "in the know," so to speak, of the reference points can have a deeper understanding of the work they're viewing. It creates a special bond between creator and audience which comes from a shared love of the same inspiration.
Watching Notes From The New World, it's easy to see Sumin's inspiration and influences go beyond the literary. The bright colors and vibrant images — in fascinating contrast to Dostoyevsky's gloomy and ominous source material — bring to mind the beauty and elegance of Wong Kar Wei's films (particularly 2046 and In The Mood For Love). The sly humor and unforgettable characters have echoes of those created by independent film director Jim Jarmusch's best works, like Down By Law and Only Lovers Left Alive. It's this intriguing dichotomy between beautiful dreamlike images, rich vibrant visuals, and quirky and intriguing characters makes Notes From The New World such a delight to experience.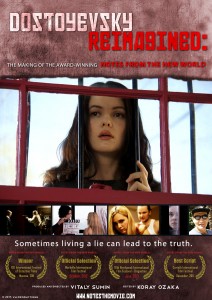 At the end of the day, anyone can have great inspiration. We could all list those luminaries of the page and screen which influence our own works and still come across as merely pale imitations. When held up to the mirror of greatness, few manage to stare back. Vitaly Sumin takes all his inspiration — the books and films he loves — and draws on them while still maintaining his own distinctive style and voice. Never at any point during the viewing of Sumin's films do you forget he is the one telling the story. From Shades Of Day to his documentary Dostoyevsky Reimagined: The Making of Notes from the New World (which recounts the remarkable trials the filmmaker encountered trying to get Notes From The New World finished), Sumin's style and voice holds strong.
It is this ability to be himself, while sharing the art he loves with his audience, which makes Vitaly Sumin's films both a memorable experience and a sincere delight for cinephiles and literary fans alike.
Be sure to visit us at home and sign up for our free newsletter at Dostoyevsky Reimagined: The Making of Notes from the New World. You'll gain exclusive access to our members-only content.
Follow this developing story through our social media on Twitter, Facebook, Google+, Pinterest, Tumblr, and Instagram.