We'll admit it right off the bat: when we started collecting data for this humongous list of films adapted from Dostoyevsky novels, we never expected it to reach these numbers: we have found a whopping 124 films that were at least loosely based upon novels, novellas and short stories by the Russian master. And what's really exciting about it — even if obvious, when you think of the magnitude of the author — is that aside from his native Russia and other major film industries like France, India and the US, classics by the Russian master have been adapted in countries that don't have so rich a cinema history. This list features renowned auteurs like Bresson, Wajda and Visconti alongside lesser known but talented and creative international names like Lav Diaz and our own Vitaly Sumin.
Wherever possible, we added a link to IMDB reviews of the film, and any DVD release we could find. Should you find any missing information or additional adaptations, please let us know! We don't claim this to be the definitive list of all things Dostoyevsky remakes, but we think we got pretty close. Shall we begin?

TABLE OF CONTENTS
CRIME AND PUNISHMENT
After a 10 year exile in Siberia with their hands and feet shackled, most people would try to patch together the fragments of life they have left, after all the hard labor and difficulties in surviving. Dostoyevsky instead wrote a little thing called Crime and Punishment, to this day considered one of his greatest works. It tells the story of Rodion Raskolnikov, a poor ex-student in St. Petersburg who resorts to murder in what, he argues, was the pursuit of a "higher purpose". The most frequently adapted of all Dostoyevsky works, this critique against the utalitarianism and rationalism that so often pervaded the west in the latter 19th century has become the perfect blueprint for more universal messages about mankind — or, on the contrary, specifically local ones, like the social fabric of Finland in the 1980s, or Lav Diaz's gloomy, bleak Philippines. [Read the novel at Project Gutenberg]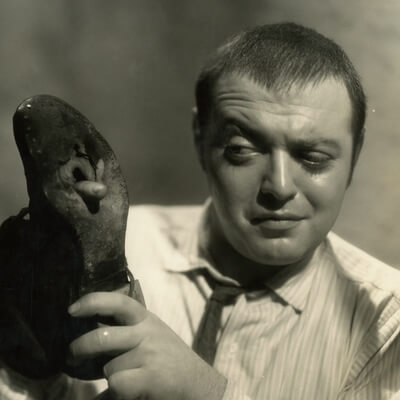 Crime and Punishment – 1935 USA
Directed by Josef von Stenberg
DVD | Review
Cramming a dense, immense (in every sense of the word) classic like Crime and Punishment into a 88 minute film is no easy task, especially when you're pretty much forced by the studio to make it. Von Sternberg wrote about his contractual obligations regarding the film, "it was no more related to the true text of the novel than the corner of Sunset Boulevard and Gower is related to the Russian environment." Peter Lorre's almost mandatory flamboyance aside (it's hard not to see him as the culprit, before the murder even takes place!), this is nothing more than honest journeyman work for someone who would go on to do much bigger and better things.
"In his autobiography, Josef von Sternberg wrote that he regretted the selection of the actors, particularly Mrs. Patrick Campbell, the famous British stage star, but noted that he had no control over her selection. Sternberg thought that Peter Lorre was inappropriate, but noted that he was the only cast member who read the Dostoevsky novel. Sternberg generally believed the project was doomed from the start. In a NYT interview, Lorre said that he had been brought over to the United States from England by Columbia and placed under contract, with ten months of idleness following. Rejecting a role in a Jack Holt vehicle, Lorre suggested Crime and Punishment , and finally agreed to a deal whereby the picture would be made and directed by Sternberg, if Lorre agreed to a loan to M-G-M to appear in Mad Love." [AFI]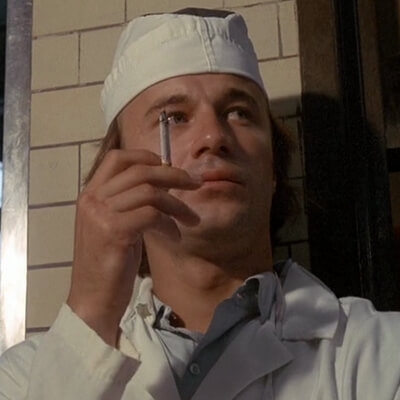 Rikos ja Rangaistus (Crime and Punishment) – 1983 FINLAND
Directed by Aki Kaurismäki
DVD
For someone who historically banked on wry humor and deadpan characters, you'd be surprised to know that Finnish auteur Aki Kaurismäki's first foray into directing came with an adaptation of Dostoyevsky's classic, this time set in modern Helsinki. Slaughterhouse worker Antti Rahikainen ends up killing an old man, but the repercussions go well beyond anything he could have expected. A lot darker and moodier than most of Kaurismäki's later works, and decidedly not as polished, but still a very interesting look at the early days of this eclectic director.
"The film's entire point of view is grounded in a critical distance toward and conflict with the dynamics of Finnish society and its experiential reality. Rahikainen's character anticipates the working class, bohemian, unemployed, and estranged people that Aki Kaurismäki describes in his later films. The historical perspective is also already present: although Crime and Punishmentis clearly a contemporary film, President Kekkonen's picture on the police department wall reveals a subtle temporal shift backward, a nostalgia for the past that so often imbues Aki Kaurismäki's later work." [Sakari Toiviainen]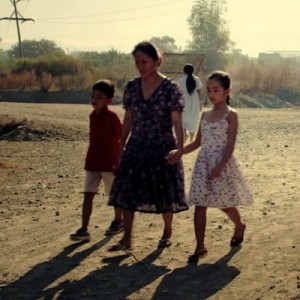 Norte, Hangganan ng Kasaysayan (Norte, the End of History) – 2013 PHILIPPINES
Directed by Lav Diaz
DVD | Review
In describing the "slow cinema" movement, renowned UK film magazine Sight & Sound noted that "the length of a shot, on which much of the debate revolves, is a quite abstract measure if divorced from what takes place within it". The length of the shots in Lav Diaz's immense (in every sense of the word), 4-hour-long tribute to the Russian classic is rather daunting, but as with many of this acclaimed Filipino director's recent works, it's full of meaning that goes well beyond its contemplative nature. Diaz was actually criticized a bit for this film by frequent flyers of his work, which is usually quite longer and decked in black and white. But a ticket to the Cannes Film Festival in 2013 and the almost unanimous worldwide acclaim which ensued should have sweetened the blow. Not for everyone, but hard to forget for everyone who chooses to watch it.
"The answer isn't really articulated in the film. Diaz poses the same questions as Dostoevsky, yet he goes on to question Dostoevsky's text, picking it apart as he goes, until there doesn't seem to be anything left, at which point he simply stops dead. Norte ends, as so many Diaz films do, in stasis and with little resolved, as if he has not so much failed to find an answer as despaired of ever finding one. Unlike with his other films, with Norte I can see Diaz stopping and giving up filmmaking. The sense of finality is more than a little unsettling, as if even his beloved Dostoevsky (of whose Crime he once declared "there are no flaws to that great novel") isn't enough to keep him going." [Film Comment]
ALSO
THE IDIOT
First published in 1868 as part of the journal The Russian Messenger, Dostoyevsky's The Idiot tells the tale of Prince Myshkin, a character seemingly lacking intelligence who finds himself embroiled in the decadence, egoism and empty mundanity of wordly society. [Read the novel at Project Gutenberg]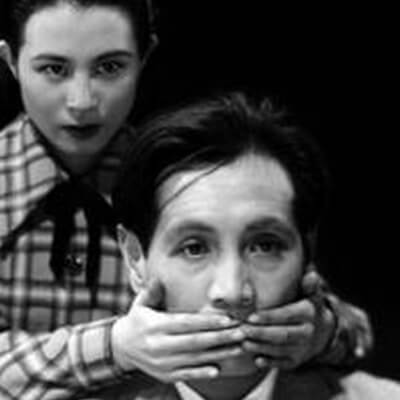 白痴 (The Idiot) – 1951 JAPAN
Directed by Kurosawa Akira
Bluray | Review
Finding the original, 265 minute version of Kurosawa's second feature film for Shochiku is one of those impossible, Holy Grail-type wishes film buffs might waste time on. But even the existing 166 minute version is a pretty gripping send-off for one of Dostoyevsky's seminal works, morphing the Russian summer settings into a much colder, snowbound Hokkaido. It also has a formidable leading trio, with Mori Masayuki, Hara Setsuko and the immortal Mifune Toshiro.
"Akira Kurosawa in his autobiography describes this film – which was heavily edited from the director's original four-hour-and-twenty-six-minute version, by order of the studio, Shochiku – as "ruinous" to his career. Upon release, reviews of this film in the Japanese press were, according to Kurosawa, universally "scathing." ("It was as if [the reviews] were a mirror reflection of the studio's attitude toward me," he writes.)" [IMDB]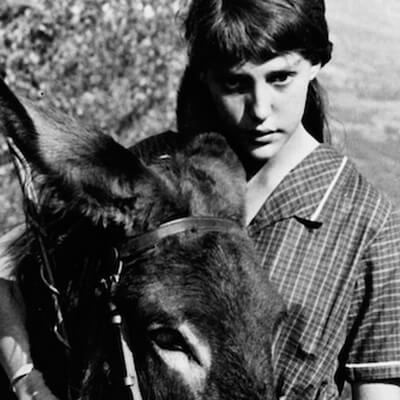 Au Hasard Balthazar – 1966 FRANCE
Directed by Robert Bresson
Amazon Prime | Review
I guess we're a bit cheating here, as Bresson's classic is only loosely based on The Idiot. But any chance to re-introduce people to what's arguably Bresson's greatest achievement is good in our book. The titular donkey's journey through injustice, suffering and human cruelty is equally harrowing as it is heartrending. Godard's future wife Anne Wiazemsky, herself of Russian descent, makes a stunning debut.
"And yet, all in all, no film I have ever seen has come so close to convulsing my entire being as has Au Hasard Balthazar . I'm not quite sure what kind of movie it is, and indeed it may be more pleasingly vulgar than I suggest, but it stands by itself on one of the loftiest pinnacles of artistically realized emotional experiences." [Andrew Sarris]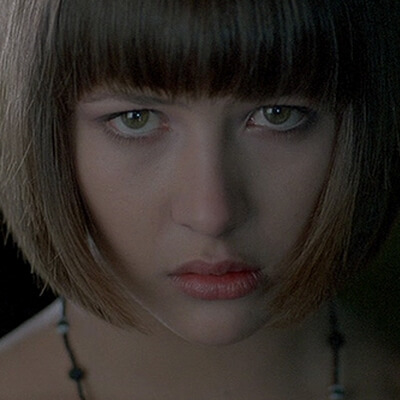 L'Amour Braque (Mad Love) – 1985 FRANCE
Directed by Andrzej Żuławski
Bluray | Review
Passion is the name of the game for Polish-born director Żuławski, who divided audiences back in his native land and arguably even more so in his second home, France. Loosely based on Dostoyevsky's classic, this is as frantic as big screen romances can get, with the director's future gilfriend of 15 years, Sophie Marceau, showing the same freshness which led her to early stardom in La Boum (Ready to Love).
"L'Amour Braque is like that: an action picture for those curious to discuss what morality is, what love and trust and goodness are all about, and how difficult they are to realize in this crazy and unpredictable nightmare world." [Slant]
Nastazja (Nastasja) – 1994 POLAND
Directed by Andrzej Wajda
DVD
Polish master Wajda had produced a stage version of Nastassya Filipovna in the 1970's, based on the novel's last chapter. Fast forward close to 20 years, and we find the director enlist the talents of kabuki theater mainstay Bandō Tamasaburō V, playing both Myshkin and Nastassya.
"The female parts created by Tamasaburo Bando are especially dear to me because of the idealisation of women, also present in our Polish tradition. This is exactly how he views Nastassya, revealing everything about her, making her worthy of the love of both men (Mishkin and Rogozin). What's more, he has been able able to inspire admiration even for her faults. The creation of this amazing artist is not a female type, but rather an image of eternal femininity born of masculine admiration, never an act of imitation or mimicry." [Wajda.pl]
ALSO
THE BROTHERS KARAMAZOV
With its 800 pages and twelve books, this is Dostoyevsky's largest work, and according to many critics his finest. It's also the author's last work, as he died only four months after completing it, the culmination of a two-year-long tour de force. A philosophical tale drenched in Oedipal themes and set in 19th-century Russia, we're dealing with three brothers (monastery novice Alyosha, rationalist Vanya, sensualist Mitya) and their relationship with father Fyodor, and the rapidly modernizing Russia in the background. Considering how beloved and iconic the novel is, there have been only a few adaptations over the years, none able to capture what makes it such a seminal work — perhaps too daunting a task, given the depth and scope of this particular work. [Read the novel at Project Gutenberg]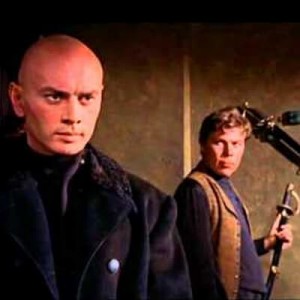 The Brothers Karamazov – 1958 USA
Directed by Richard Brooks
DVD | Review
The same year Richard Brooks delighted critics and moviegoers with Cat on a Hot Tin Roof, he decided to go into a much different direction by helming an adaptation of Dostoyevsky's famed novel, casting star Yul Brynner and the future Captain Kirk William Shatner (in his feature film debut) as two of the three titular brothers. But although he was able to aptly cram the masterpiece within the film's 145 minute running time and the actors do a decent job (especially Lee J. Cobb), there is little of the pathos that can be found in the novel here.
"But if there is one thing that was done wrong, that keeps it from rising above the *** level is the ending.  Here, the decision was somehow made to do exactly what Hollywood does so often, by disregarding what makes things great.  They, inexplicably, give the novel a happy ending." [Night Hawk News]
ALSO
THE GAMBLER
One of Dostoyevsky's short novels with the most cinematic flair and pathos, The Gambler was a sort of indirect mea culpa for the author, as he dramatizes his own gambling addiction to an extent that was almost tragicomically autobiographical: while talking about gambling addicts, Dostoyevsky had agreed with F. T. Stellovsky (who paid his gambling debts) that, had he not completed the novel before his deadline, he would have had to essentially write for him for free the following nine years. Pretty good incentive to quit gambling, I think.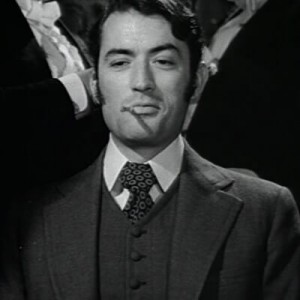 The Great Sinner – 1949 USA
Directed by Robert Siodmak
DVD | Review
Film noir aficionados will fondly remember Siodmak for noir classics like Criss Cross and especially The Killers, but what he does here is a little glitzier: backed by MGM's big cash, the production first tried to cast Kirk Douglas as Armand de Glasse in the adaptation of Dostoyevsky's gambling opus, but Douglas opted for the much smaller noir sport drama Champion — which gave him his first Academy Award nomination for Best Actor. Then they tried to cast Lana Turner as the leading lady, and she turned the role down because of her extended honeymoon. Still, having Ava Gardner as your second choice is not all that bad, especially when Gregory Peck becomes her partner in crime. Yet, despite the allure and production values of a "prestige picture", a talented director at the helm, a good cast and an original novel tailor-made for drama, Christopher Isherwood's screenplay is a little too soapy for its own good.
"As noted by the critics, The Great Sinner had first-class production values, but it was far from a successful film. Howard Barnes in the New York Herald Tribune called it "pompous and dull entertainment." Time Magazine had praise for supporting players Barrymore, Frank Morgan, and Agnes Moorehead, but added, "the rich, exuberant flow of dialogue, incident, and atmosphere characteristic of the Russian master has been choked to a pedestrian trickle. Dostoevsky's brilliant insights into the tortured motives and emotions of his lovers have paled into klieg-lighted stereotypes." [TCM.com]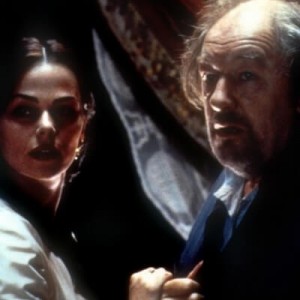 The Gambler – 1997 UK
Directed by Károly Makk
DVD | Review
With all due respect to Dostoyevsky, it would be pretty sad to remember Hungarian Károly Makk only for his remake of the Russian master's semi-autobiographical gambling romp: this is a director whose films have been invited to Cannes since the mid-1950's, and that often were selected as the Hungarian entry for the Academy Awards' Best Foreign Film — 1971's Szerelem (Love) being arguably the best example. His venture into English-language filmmaking is a little less successful, although this version is not devoid of fun moments. If anything, it'll survive in the annals as a treasure trove of trivial tidbits, such as the fact that Michael Gambon is playing Dostoyevsky, that The Wire's Dominic West makes a big impression in one of his early roles, and that this was Academy Award winner Luise Rainer's last film.
"This story within a story is too compressed and played too exaggeratedly (in almost a parody of "Masterpiece Theater" historical romances) to evoke a complex social web. The movie dips into psychobiography just long enough to suggest that Dostoyevsky's addiction is a self-flagellating spur to his own creativity. It takes an intriguing turn when the real Polina appears and demands that Dostoyevsky forget his responsibilities and run off with her to Paris." [The New York Times]
ALSO
NOTES FROM THE UNDERGROUND
In Existentialism From Dostoevsky to Sartre, Walter Kaufmann argued that Dostoyevsky's novella from 1864 was one of the first existentialist novels. Set in St. Petersburg and focusing its first act on the monologue of a bitter, self-defeating narrator (The Underground Man), Notes from the Underground would have made for great material for the film noir canon in the 1940's, but a surprisingly few adaptations have been made over the years. [Read the novel at Project Gutenberg]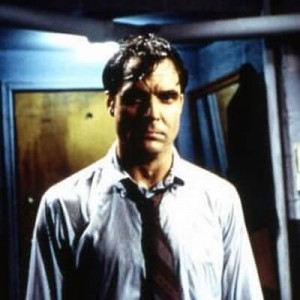 Notes from the Underground – 1995 USA
Directed by Gary Walkow
DVD | Review
Going from icy cold St. Petersburg to the sunny streets of Los Angeles and using a videotape as a medium (instead of a journal) might be a bit of a stretch. But Gary Walkow — of The Trouble with Dick fame — manages to do Dostoyevsky's short novel a degree of justice with this explosive display of nihilism and self-defeating moral superiority, as our titular Underground Man narrates how miserable his life has turned. Thanks to spite. With solid performances from Henry Czerny — the supremely viscid Agent Kittridge from Brian De Palma's Mission: Impossible — and Twin Peaks' own Sheryl Lee, this is an underrated (if a little underdeveloped) adaptation that is definitely worth a look.
"There is something exhilarating about watching a performance where an actor disappears so completely into the character he's playing that you can no longer separate the dancer from the dance. NOTES FROM UNDERGROUND puts Czerny front and center as the protagonist and narrator with an ideal framing device that is also used for visual punctuation and a cohesive thread throughout the film: a man turns on a video recorder, plops down in front of it and launches into a catalog of his failures and sins for the edification of whoever may view it one day. It's a video diary in essence or in Underground Man's exact words: "It's not so much a confession as a moral tale to show how I've ruined my life – from spite."" [Jeff Stafford]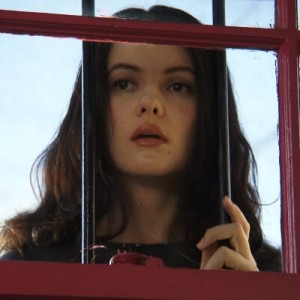 Notes from the New World – 2011 USA
Directed by Vitaly Sumin
A man torn between two alluring beauties pretending (including Natasha Blasick of Paranormal Activity 2 fame) to be something they're not, the Russian mafia's involvement, and a city (Los Angeles) where dreams and harsh realities collide. The second chapter of his Dostoyevsky-LA Project (following the White Nights-inspired Shades of Day), Vitaly Sumin's contemporary retelling of Notes from the Underground provocatively comments on the state of this post-communist and post-modern world, paying tribute to the Russian master with this ambitious, genre-bending (and blending!) tour de force. The mysterious events that ensued during the filming of this feature led to Sumin's Dostoyevsky Reimagined: The Making of Notes from the New World, currently in post-production.
"Every common man of no particular influence or stature throughout history has felt that he has no real control over his own fate. In today's modern society, however, the common man has the illusion of control of his own destiny through technology. And even though Steven is surrounded by elements of modern technology–such as the spy cameras throughout his living quarters being used to help him develop his part–he ultimately finds that he's not the one controlling them.  He only had the illusion of control.  As such, he is really no different than the Underground Man that he is researching. – Vitaly Sumin" [MyFilm.gr]
ALSO
THE DOUBLE
Doppelgänger themes often make for great dramatic tension to begin with, imagine with Dostoyevsky. Painting the internal psychological struggle of a man who meets his exact physical double (but perhaps his exact opposite in terms of personality), this novella is — depending upon your interpretation — an homage to Gogol's recurring themes or an evolution. Still decidedly under-represented in terms of adaptations (perhaps because of its rather conventional premise), The Double is still looking for a film to truly do its psycho-social underpinnings justice. [Read the novella]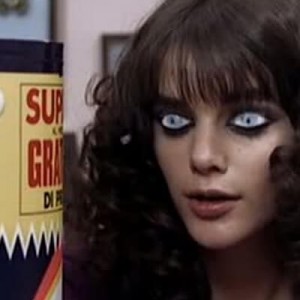 Partner – 1968 ITALY
Directed by Bernardo Bertolucci
DVD | Review
You could make an argument that just about every great director has, at one point in their career, been heavily influenced by other luminaries of the genre. But seeing Bertolucci's rather ham-fisted "tribute" to Jean-Luc Godard's 1960's cinematic sensibilities is a bit of a shock, coming from someone who helmed intelligent works such as The Conformist and Last Tango in Paris. Shockingly formulaic apart from the misguided radical essay-film idiosyncrasies, Partner even tries to mirror Italy's tumultuous political climate of the time (1968, after all, was a pretty iconic year for the country in terms of protests) in a rather haphazard way. Yes, even good directors can have a bad day.
"Partner bears the unmistakable influence of Jean-Luc Godard right from its opening credits, which play over disjointed snippets of Ennio Morricone's score. Bertolucci approaches the filmmaking playfully, toying with sound design and lighting—absurdly large shadows appear in more than one scene—and shooting tongue-in-cheek homages to Sergei Eisenstein and TV soap commercials. There's some Luis Buñuel-style satirical surrealism as well, most obviously in the scene where hero Pierre Clémenti and his girlfriend sit in the back of a motionless car while their driver makes "vroom vroom" noises. " [A.V. Club]
The Double – 2013 UK
Directed by Richard Aoyade
DVD | Review
The first adjective that comes to mind when you think of Richard Aoyade is "poliedric": this young man is a BAFTA-winning thespian (for The IT Crowd) and voice actor (The Boxtrolls, Danger Mouse), a music video director (Kasabian, Arctic Monkeys, Vampire Weekend), and a TV personality (Was it Something I Said?). But, thankfully, also a pretty talented director. The Double manages to overcome its conceptual clichés (the doppelgänger convention in particular), thanks to two winning performances by lead Jesse Eisenberg and the always reliable Mia Wasikowska (or should we say three, since Eisenberg alone plays two?). Striking a great balance of eclectic humor and noir style atmosphere, Aoyade's adaptation is among the strongest of this entire list.
"It's great fun to watch Eisenberg play against himself as inverted visions of nerd-dom, and these days the digital tools make such things appear seamless. But I don't think the Freudian death drama of "The Double" is where Ayoade's heart lies (he co-wrote the screenplay with Avi Korine, brother of Harmony), and to some degree the plot of Dostoevsky's novella ends up getting in the way. This movie is about its overarching atmosphere of unexplained psychic dread, its bleak-spectacular aesthetic and its Lynchian use of pop-music marginalia much more than about what happens between the warring Jesses. (It's also about its peculiar and delightful ensemble, loaded with oddball cameos: Sally Hawkins as a forbidding receptionist, Chris O'Dowd as an armed and fatalistic male nurse, J. Mascis of Dinosaur Jr. as the laconic janitor in Simon's building.)" [Salon.com]
ALSO
A GENTLE CREATURE
Dostoeyvsky was influenced by the demise of a seamstress, whose "meek death" kept lingering on in his thoughts, in creating this short novel. Telling the story of a pawnbroker and a girl who frequents his shop (and he falls immediately in love with), it's easy to see why this story gained so much traction among filmmakers — it has all the hallmarks of Dostoyevsky's customary "Косность" (the spiritual inertness of materialism). Bresson makes once again his appearance, along with entries from Georgia and Vietnam (!).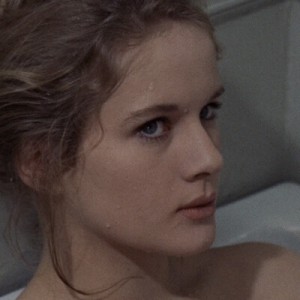 Une Femme Deuce (A Gentle Woman) – 1969 FRANCE
Directed by Robert Bresson
DVD | Review
That Bresson chose a Dostoyevsky adaptation for his first film in color, after having dabbled with works of the Russian master before (as we mentioned already), is interesting. Perhaps it's because, in a way, Bresson's style of filmmaking (that minimalist, spiritual lingering full of ellipses and where non-professional actors sort of blend into the picture) and Dostoyevsky's themes tend to gel well together, to the point that the director returned to one of his works later on in his career (you'll find out below). Dominique Sanda, who was cast after a simple voice call, stars as the titular, angelic and "gentle" woman, lying dead on the floor as the film starts — to then track back to the life of despair that caused this ultimate liberation. But was it really one?
"In this psychological drama, darker than Bresson's previous films, there's no salvation through suffering or real understanding of why suicide instead of a divorce. The tale unfolds with the somberness reserved for those trying to understand the human condition without understanding what they mean by love and without plumbing the depths of the mind. The couple's plight is related to that of all humanity in this modern world, where it's easy to lose sight of the soul (spiritual) when pursuing only the body (material). External knowledge can easily be gained in today's world by anyone who wants to through the widespread publication of books and in big cities through museums, theaters and botanical gardens, but what Bresson seems to be getting at is the unbearable inner isolation that causes a disconnect among humans–where love is not something that can be bought or possessed, as it only can be gained by searching for an inner knowledge–which means going in the opposite direction of the world, something only a few seem to be able to do without destroying themselves." [Dennis Schwarz]
ALSO
WHITE NIGHTS
One of literature's greatest tales of loneliness and unrequited love, White Nights is not surprisingly the second most frequently adapted Dostoyevsky novel — and one would think that in the coming years it might even surpass Crime and Punishment. As the lonesome narrator meets Nastenka, what started as a purely platonic relationship descends into a much more passionate feeling. But this being Dostoyevsky, a lot of suffering and unrequited feelings await him. [Read Novel on Archive.org]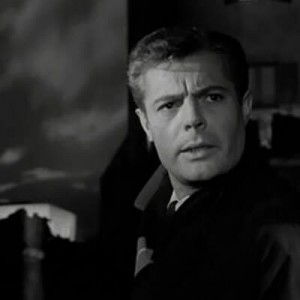 Le Notti Bianche (White Nights) – 1957 ITALY
Directed by Luchino Visconti
DVD | Review
After the iconic Italian director made a stylistic U-turn in the mid-1950s — away from the neorealism of Ossessione (Obsession) and La Terra Trema (The Earth Trembles) and towards the more personal and (literally) colorful Senso — Luchino Visconti chose a Dostoyevsky adaptation to end his 1950s output, one that would bring him the Silver Lion in Venice. Marcello Mastroianni of La Dolce Vita fame plays the shy and lonely Mario, smitten at first sight by Natalia — Maria Schell, who a few years earlier had won the Best Actress prize at Cannes for her work in Die Letzte Brücke (The Last Bridge). Mario accompanies her in her inevitably fruitless efforts to connect with the man she loves, he himself gaining very little for his troubles, if not the realization that love is blind. Beautifully layered despite its seemingly straightforward plot, this is a wonderful little treat from the Italian master, beautifully recreating the Livorno of the 1950s (one would assume) instead of the novel's St. Petersburg.
"Throughout the film, we are faced with the opposition of two levels of reality, the actual and the ideal. The actual is characterized by transience, modernity, social dissociation: by pop music, youths on motorbikes, a prostitute and her clients, passersby. The ideal, by its nature, is less readily concretized in particular images. It is the product of the transforming power of the imagination. The same contrast that is expressed in the spatial division of the film exists within the characters themselves. On the level of actuality, Natalia is little more than an attractive drone. In her imagination, she is the faithful beloved, and her lover will come back to her because she believes in her love. The extraordinary thing about the film is that she is allowed to triumph, that the ideal becomes reality. At the same time, Lenottibianche is not a sentimental film, and on the level of observation, it is lucid and at all times realistic." [Criterion]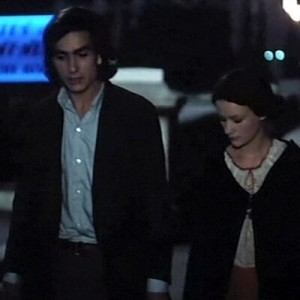 Quatre Nuits d'un Rêveur (Four Nights of a Dreamer) – 1971 FRANCE
Directed by Robert Bresson
DVD | Review
Bresson's fourth ride with Dostoyevsky material, and arguably the most interesting one — seeing as White Nights is prone to oversimplification because of its superficially simpler themes, and that the French director does wonders with the material. Guillaume des Forêts and Isabelle Weingarten rival Visconti's duo in their witty and yet poignant interplay in the streets of 1970s France, as Pierre Lhome's fabulous cinematography envelops them. Bresson talks about the beautiful naivety and shallowness of romanticism in a way that is not judgmental, as the underlying sadness that guides the characters always looms around the corner.
"Perhaps the lightest and most idiosyncratic film in Bresson's body of work, Four Nights of a Dreamer nevertheless broaches his recurring themes on the division between the physical and the ephemeral. Within this framework, the film serves as a deconstruction of the romantic myth in all its manifestations and illusions. This idea of artificiality is first explored during Marthe's recounted story of receiving tickets from her then presumptive lover to attend the premiere of a trite potboiler entitled The Bonds of Love that ran the gamut of popular film conventions from extended shoot-outs to the clutching of a beloved's photograph – accompanied by swelling music – in the moments before death. But Jacques coming to Marthe's aid at a bridge is also a familiar scenario – the proverbial rescue of the damsel in distress – a romantic sentiment that is further reinforced by his continued arrangements to meet her on the same bridge as their relationship develops (the bridge itself suggesting a metaphoric point of convergence between these two drifting souls). This sense of contrived romantic destiny is also reflected in Jacques's recorded messages describing his beloved's separation from him for six months that alludes to Persephone's descent into Hades (further elevating the idea of love into the realm of mythology), as well as the musical interludes that seem to coincidentally insert themselves during key moments throughout their brief encounters. In this respect, Bresson reflects on the role of the artist as a creator of images, where the ideal lies in the pursuit of the elusive – in the empty spaces that reveal the essential "gesture which lifts its presence from the object" – the illusion of transcended love." [Strictly Film School]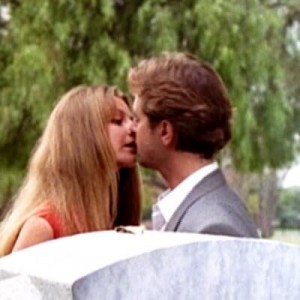 Shades of Day – 2006 USA
Directed by Vitaly Sumin
Vitaly Sumin's love story with Dostoyevsky continues (or, chronologically speaking, started) with this Los Angeles retelling of the 1848 classic. Steven Prescott (Alexander Smith) is drifting through his days. He works as a security guard, having given up on his dream of becoming a successful screenwriter. Then one day he comes upon a gang of young toughs assaulting a young woman. He rescues her and brings her home. Recovering quickly, the woman, named Linda (Camilla Bergstrom), begins to puncture the complacency that shrouds Steven's existence. He's somewhat distressed by this, but is also drawn to the beautiful intruder. Linda, however, is carrying a torch for her former lover Paul (Brian Paul Stuart), a brilliant African-American astronomy student who has pushed her out of his life to concentrate on his Ph.D. The plan is for them to meet again in two years when he's completed his studies. The plot thickens when Linda persuades Steven to spy on Paul, with strict instructions not to make contact. Steven disobeys her instructions and begins to develop a friendship with his unsuspecting rival. Originally shot in 2006, the film was re-released in 2015 as a Director's Cut.
"The great novels of Dostoevsky are the stories of TRIAL signifying one of the highest levels in the evolution of the so-called "baroque novel," the term introduced by the genial researcher of literature, Michael Bakhtin ("Francois Rabelais and the Popular Culture of Laugh in the Middle Ages and the Renaissance"). Thus, Dostoevsky, according to Bakhtin, was related to the traditions developed in the European literature on four levels: 1) . Through the Gothic English novel of sensation (Ann Radcliffe, Horatio Walpole, M.G. Lewis); 2). The French sensational novels of social-adventure: roman-feuilleton ("newspaper serial") Eugene Sue; 3). the novels of trial by O. De Balzack; and, finally, 4). the German romantics (mainly E.T.A. Hoffman). In addition, Dostoevsky was in close relationship with the stories of the Saints and the Christian tradition with its specific treatment of Trial ("Love will save the world")." [Vitaly Sumin]
ALSO
OTHER NOVELS
AND FINALLY…
Let's imagine you were an aspiring filmmaker with an undying love for the Russian master, and wanted to adapt at least one of his works into a film. But with a caveat: it had to be something that nobody has ever adapted before. We're here to help you with that as well! This, to the best of our knowledge, is a list of all the Dostoyevsky works (novels, novellas, short works) that have never been adapted into a feature film (whereas they might have inspired a short film or a TV series). Some of them also feature links to Project Gutenberg or other sources where you can read them, because we're cool like that. If you've seen these films adapted somewhere — who knows, there might be a rich history of adapting Dostoyevsky works in Georgia, Nigeria or Turkmenistan — don't hesitate to let us know!
Как опасно предаваться честолюбивым снам (How Dangerous to Indulge in Ambitious Dreams) – 1846
Роман в девяти письмах (A Novel in Nine Letters) – 1847
Хозяйка (The Landlady) – 1847
Чужая жена и муж под кроватью (Another Man's Wife and a Husband Under the Bed) – 1848
Ползунков (Polzounkov) – 1848
Маленький герой (A Little Hero) – 1857
Крокодил (The Crocodile) – 1865
Бобок (Bobok) – 1873
Подросток (The Raw Youth) – 1875
Мужик Марей (The Peasant Marey) – 1876
Мальчик у Христа на ёлке (The Beggar Boy at Christ's Christmas Tree) – 1876
Сон смешного человека (The Dream of a Ridiculous Man) – 1877