"When we get to the end of the story, you will know more than you do now…"

―Hans Christian Andersen, "The Snow Queen"

Fun Facts:
One of Andersen's longest (split into seven sections) and most highly praised children's stories.

First published on December 21st, 1844 in the first volume of Andersen's

New Fairy Tales

(Second Collection)

.
Fairy Tales in Pop Culture:
"The Snow Queen" served as the original inspiration for Disney's animated film

Frozen

. However, through the process of development, nearly all recognizable elements of Andersen's original story disappeared.

The story is so internationally popular that elements of it have been adapted into multiple films, television episodes, video games, musicals, and ballets across the globe.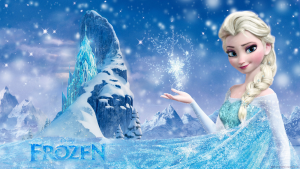 Synopsis:
Hans Christian Andersen's beloved children's story narrates an adventurous and sometimes quite frightening battle between good and evil. It begins with an evil troll wreaking havoc across the land with a magic mirror that distorts reality, portraying all that is beautiful and good as ugly and repulsive. When trying to bring the mirror up into the heavens to make a mockery of God and his angels, the mirror falls to Earth and shatters into infinite microscopic shards which lodge into the people's eyes and hearts, causing them to permanently view the world as a nasty place. Years pass and readers are introduced to Kai and Gerda, two children who are best friends and live next door to one another, spending their days playing in the lush gardens in front of their houses. One day, the Snow Queen appears in Kai's garden and invites him to join her. He initially fears her and refuses. However, a shard from the mirror soon lodges into Kai's body, causing him to become angry and cruel. Soon the Snow Queen appears once more and convinces Kai to join her in her ice palace. Gerda, determined to find her beloved best friend, sets out on a quest to bring Kai home. After a harrowing journey through many different magical landscapes and befriending various animals, Gerda utilizes the power of her innocent goodness to trounce the Snow Queen's evil magic and save Kai's life. Andersen's tale reminds all readers (especially children) of the importance of embodying good will and character.  
Message to Our Readers:
Tell us what you think!
Join our discussion forum and share your perspective and experience of this story. What are some of your favorite Snow Queen adaptations? Let's get started!

Follow us through our social media on Twitter, Facebook, Google+, Pinterest, Tumblr, and Instagram.