VM Productions is ringing in the holiday and winter season by revisiting Claude Sautet's Un Coeur En Hiver (A Heart in Winter) (1992). The French film, which competed in the 49th Venice International Film Festival, features excellent performances all across the board, starring Daniel Auteuil, Emmanuelle Béart, André Dussollier, and others. While more understated than most American films that typically fall under the umbrella of Romance/Drama, Un Coeur En Hiver sends a powerful message about the importance of love and accepting each and every one of its beautiful and also terrifying facets.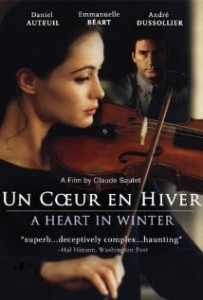 The film opens with the narration of Stéphane (Auteuil) as he describes the various routines shared between himself and Maxime (Dussollier), his business partner and friend, in their violin restoration company. From this narration and the accompanied montage of quiet exchanges, we learn that Stéphane, though both passionate and skilled in his profession, lives life in complete isolation from any sort of emotional indulgence or involvement of any kind. However, a noticeable glimmer of jealousy or even resentment crosses his face when Maxime admits to having fallen in love with Camille (Béart), a beautiful violinist.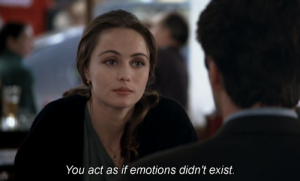 Camille begins to meet with Stéphane, discussing her instrument, music, and life itself; and it becomes clear that the two have feelings for each other (though Stéphane's feelings are emoted much more subtly than Camille's). Eventually, all comes to a head when Camille professes her love for Stéphane as he spurns her, retreating back into the safe familiarity of emotional hermitude. He continues to live as a partial person void of love, for he fears and cannot understand the concept. However, he witnesses an embodiment of its truest form in the bond between his elderly friend/former music mentor and his wife. This incident finally presents him with a tangible view of real love and sparks something resting deep within the emotional chasm he had constructed within his heart. It is with this sacred knowledge that Stéphane can finally admit his faults and shortcomings and face Camille once again from an entirely new perspective. But rather than tie the film's conclusion up into a neat package, Sautet instead presents the viewer with an ambiguous suggestion as to what the future holds for the recently love-enlightened Stéphane.
Though Coeur is by no means a classic holiday film, it utilizes rich dialogue and great emotional depth to evoke some of the best sentiments of the holiday season: to appreciate the magic of having loved ones of your own and to bask in their warmth in even the harshest of winters. Many comparisons can be made between the emotional transformations of the initially jaded and loveless Stéphane to the stubborn and miserly Ebenezer Scrooge or even the Grinch. Whichever comparison is made, Un Coeur En Hiver tells a tale that portrays both the delightful and touching aspects of love while also warning of the despair of choosing to live without it.
Join our discussion forum and share your perspective and experience of this film. Were you as moved by the plight of Stéphane? Let's get started!

Follow us through our social media on Twitter, Facebook, Google+, Pinterest, Tumblr, and Instagram.