Two men; one from Melbourne, Australia and one originally from St. Petersburg, Russia. Melbourne and St. Petersburg have been "sister" cities since 1989. And the two men may be considered "brothers" in their individual re-imagining of Fyodor Dostoyevsky's 'Crime and Punishment' into film.
The man from Melbourne is Australian director, Andrew O'Keefe. His company Apocalypse Films will be releasing 'Crime and Punishment' in 2016. The man from St. Petersburg is the Russian director, Vitaly Sumin. His company VM Productions, based in Los Angeles, has created several film adaptations of Fyodor Dostoyevsky's works. The latest film is the documentary 'Dostoyevsky Reimagined: The Making of 'Notes from the New World' – Behind The Scenes', to be released in 2016.
At first glance, this interview may seem like a comparison between two directors adapting the same novel. Hopefully, by asking them both the same questions we will gain some insight into how their personal experiences and perspectives reveal 'Crime and Punishment' in a new light. We also gain some foreground knowledge on Vitaly and Andrew as directors.
What led you to directing?
Andrew: Directing films crept up on me. I realize now that I had been "directing" in some form or another since I was very young, but it was things like using my grandpa's Betamax camera or drawing flick-book animations. I used to draw a lot and told stories that way – but now I only draw storyboards. It was probably 5 years spent working for Blockbuster Video in the 90's that truly kicked me into filmmaking gear. I watched thousands of films in that time and became inspired.

Vitaly: I come from Saint Petersburg, Russia where I graduated with a Master of Science in Oceanography from the prestigious Russian State Hydrometeorological University (RSHU). I was also a member of the 'Union of the State' writers, local chapter for juniors. I had a dream back then to see the world and write about it. Of course a writer (and artist in general) has no right to talk about things she or he doesn't know about or hasn't experienced. So I thought that oceanography, as a profession, could give me an opportunity to see the world and write about the things I practiced.
At present, I continue writing fiction, deriving from it more pleasure than from my involvement in cinema. So, why cinema? While being an oceanographer and sailing around the planet – putting into practice my dream of getting to know the world's oceans and so-called "exotic countries" — I realized both the importance and the limitations of available communications. So instead of translating my fictitious stories in order to adapt them to the plurality of the world's languages, why not translate my writings into one common language — the language of cinema. I understand now that it was a very naive approach, but I didn't realize it then.
How would you describe your directing style?
Andrew: I would describe my directing style as an ongoing process of development. I love learning. I love reading to learn. As a director, you rarely get to see other directors in action so it's difficult to glean craft. In some films, I like to stay out of the actor's way. I know that I only want to direct my own work, so the writing is very important to me. I'm not a director for hire. I direct through the writing mostly.
Vitaly: Tolstoy, it seems to me, stated (citing by memory) "that every writer actually writes only one book where all his/her creations represent the chapters". We can identify the creators of the particular paintings by Francisco Goya or Vincent Van Gogh or the music by Ludwig van Beethoven or Igor Stravinsky, or films by Michelangelo Antonioni or Ingmar Bergman – just by looking/listening/watching even if we're presented with the work of art we're not familiar with. But not only the great masters have their own particular style. Everybody has a style – whatever an individual has within his "soul" will be reflected on the screen. If the individual uses a video camera in order to create an amateur kind of story or even record a family event. If I have a directing style, it's not up to me to tell.
I always go with the story and the dramatic possibilities it contains.  In short, the story dictates the directorial approach to its style on all levels to begin with the choice of the actors which is particularly important. Concurrently, I make the initial breakdowns on my own for everything in regards to the "mise-en-scène" (storyboards, camera angles/movement, colors, design, wardrobes, make-ups etc). Next, I discuss these breakdowns with the heads of the appropriate departments. It's like in a music piece: the parts   must organically correspond to each other and create a whole while complementing each and reflecting the different layers of the meaning of the story. It doesn't mean that everything will go as planned, but the blueprint should exist and proceed to the shoot.
In my early school years as a native resident of St. Petersburg, I had the great privilege of being involved in the activities of the State Hermitage Museum – one of the greatest and richest museums in the world. The museum had a special program in the history of arts managed by the most prominent teachers, artists, and philosophers. They volunteered their time and energy to communicate with high school students. In addition to listening to lectures and participating in the appropriate undertakings, we had free access everywhere in this "city" within a city, including the areas forbidden to regular visitors. I spent a lot of time in "tete-a-tete" with the original creations of the great masters who changed the world. I discovered the visual and dramatic equivalents to the breakthroughs in sciences, philosophy, etc. I think my breakdowns mentioned above reflect – in a way – the experience I've acquired in the Hermitage.
What does a typical working week entail at the moment?

Andrew: A typical working week, at the moment, is about three days a week being a film lecturer at a great film school here in Australia, one day finishing off Crime & Punishment and seeing to its release strategy and another day working on the next project. I'm also applying to do a Ph.D. so that's filming the hours also. I'm usually very busy!

Vitaly: Currently VM Productions are editing the long versions of the 7 interviews with the cast and the crew of Notes from the New World. The short versions of these interviews representing work on progress – are displayed on our BTS site in the video gallery.  We're preparing to shoot a long interview with Natasha Blasick in the Theater Unlimited Studios in North Hollywood (the same location where we shot most of the interiors of the Notes). The interview will be interesting on its own; some parts of it may be included in the BTS.
VM Productions are also developing an exciting package of four feature films: Idiot-LA, Shades of Blood, Crime and Punishment-LA, and Love Game. For some of the films, we hope to cast A-list actors.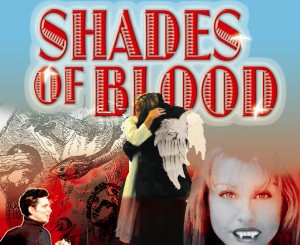 I'm about to finish the novel tentatively titled 'Shades of Blood or the Special Vampires in Hollywood' –  horror/sci-fi/romance  – based on my script of the same title.
Fyodor Dostoyevsky wrote many great works. What made you choose to make a film adaption of 'Crime and Punishment'?
Andrew: I wasn't looking to make an adaptation of a Dostoyevsky novel, far from it. I'm not sure they are adaptable and I've tried! But with Crime and Punishment, it was quite simply the relationship between Raskolnikov and Inspector Porfiry that I loved. It was such a pleasure to read their exchanges. I saw two of my friends immediately playing those parts and before you know it I was writing a script using the Raskolnikov / Porfiry exchanges as the touchstone.
Vitaly: In Spring 1992, a series of uprisings, looting, arson, assaults, killings and civil disturbances occurred in Los Angeles, California.  These events followed the acquittal of police officers on trial regarding the videotaped and widely covered police brutality incident. They were the largest riots seen in the United States since the Detroit Riot of 1967, the largest in Los Angeles since the Watts Riots of 1965, and the worst in terms of death toll after the New York City draft riots of 1863.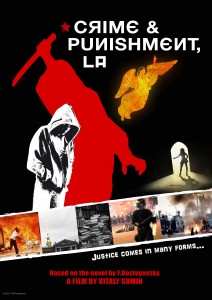 The estimates of property damage were over $1 billion. The riot ended after divisions of the California Army National Guard, the 7th Infantry, and 1st Marines were called in to stop the rioting when the local police could not handle the situation. In total, 53 people were killed during the riots and over 2,000 people were injured.
Yours truly witnessed these events first hand. I recall driving at night from my offices in Hollywood Blvd. to the Valley where I lived. Except for the soldiers patrolling the area, there were no people in sight on Hollywood Blvd. or in the neighborhood area. But even further incredible and striking experience was driving at high-speed on Hollywood Freeway. Usually very much alive, even at night-time, the 101 was almost completely empty (due to the plurality of recent drive-by shooting attacks on the motorists), there were no cars in sight whatsoever.
The experience I acquired during these L.A. Riots gave birth to the idea to set the adaptation of Dostoyevsky's book in the background.  The story of Crime & Punishment, LA takes place in the milieu of the 2nd and 3rd generation's Russian Americans. One of the most enigmatic characters of Dostoyevsky's novel – Svidrigailov is resurrected in the script as a successful international businessman, formerly a KGB high-ranking officer. Such a setting creates an opportunity or pretext for an exploration into the current state of Humanity that could be achieved via the multi-layered possibilities deriving from the story of the script.
What is Fyodor Dostoevsky ultimately trying to say?
Andrew: I think that is a far too difficult question to answer. Dostoevsky is far too complex for my understanding and he lived a most extraordinary life – one which I can't contemplate. I think that his special skill was to know people – the darker side of humanity more often that not – and he could see that, ultimately what is in one of us is in all of us and each can choose.

Vitaly: I discovered Dostoevsky rather late in life and was amazed by the multi-leveled modern quality of his prophetic writings. First of all, I found myself touched by the nature of suffering of some of his major heroes. In one way or another they are all poor, "Insulted and Injured" suffering from humiliation in the variety of its forms, while searching for love, money and friends (and most of them for a "meaning of life," too) in this strange world where 'the battle between God and Devil in every human soul never ends.' This struggle and its transformation to the everlasting duality of the multiple forms of human existence may serve as a basis for the understanding of the polyphonic vision of the world proper to Dostoevsky. We're never dealing with a single voice, which represents the one and only truth/idea, but with the tragicomic dialogue multiplicity of the postmodern-like voices (they may belong to the same human soul) that perpetually contest each other. That's why among the other "voices" there's a special place for Swindler, Fool and Dummy/Idiot in Dostoevsky's world. These three figures/masks have deep roots in the history of Western culture touching the mere beginning of human social life. All delivered to Western literature an important link with popular theater, carnival, and circus. Fool, Dummy and to a certain extent Swindler have the special right to be strangers in this world: they do not accept any of the ideological or other statements claimed as honest, faithful or trustworthy by the different communities or individuals because they see the wrong side and hidden lie in every such statement.
The great novels of Dostoevsky are the stories of TRIAL signifying one of the highest levels in the evolution of the so-called "baroque novel," the phrase proposed by the genial researcher of literature, Michael Bakhtin (Francois Rabelais and the Popular Culture of Laugh in the Middle Ages and the Renaissance). Thus, Dostoevsky, according to Bakhtin, was related to the traditions developed in the European literature on four levels:- 1). Through the Gothic English novels of sensation by authors Ann Radcliffe, Horatio Walpole, and M.G. Lewis;  2). The French sensational novels of social-adventure: roman-feuilleton ("serial novel") Eugène Sue; 3). The novels of trial by Honoré de Balzac; and, finally, 4). The German romantics (mainly E.T.A. Hoffman). In addition, Dostoevsky was in close relationship with the stories of the Saints and the Christian tradition with its specific treatment of Trial ("Love will save the world").
THRESHOLD (as an attribute of the Trial) and leading to it–stairwells, corridors, streets and squares usually represent in Dostoevsky's world the places associated with the moments of CRISIS/CATHARSIS characterizing the major changes in life/"mythical journey" of the heroes.
Here we're dealing not only with the basic elements of the mystery of dramatic structure (up and downs of a hero's life, death and resurrection, sudden enlightenment, new life), but also with that special time where the multiple voices become ONE. . . . The biographical time of a hero no longer exists–giving place to a mask of an eternal Myth playing a part in a show.
In his book, Heretical Empiricism, Pier Paolo Pasolini claims that after the Second World War, the audio-visual medium of cinema replaced literature in its "discovery of the world." From this point of view, Dostoevsky's novels represent a collection of the myths providing nowadays an invaluable material for an attempt of the fresh reading/discovery of the world.
That's why, like the Greek, Biblical, Shakespearean and other great universal myths, the discoveries of Dostoevsky's (whom I can call, one of the prophets of postmodernism because his tales predict the major cataclysms of our era) represent for me the invaluable eternal sources beyond the context of 19th Century Russia–and therefore particularly suitable for cinematography adaptation.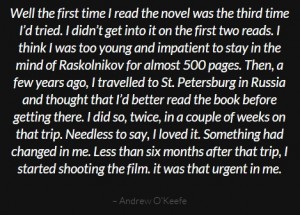 What is the most challenging aspect of adapting books to film?
Andrew: I've only adapted one book to film – Crime and Punishment – so I can only refer to that. The characters were difficult – certainly the number of them was large. And in Dostoyevsky, they all play an important role, so aspects of all of them needed to be combined into other characters. The desperation of the people and the poverty of the time, which plays such a large part in Dostoevsky's motivation, were aspects I had to lose too. There are poor people in Australia and people live below the poverty line, but not to the extent of St. Petersburg in 1866. So, the motivation for murder had to be found elsewhere; in the 'Extraordinary Man' theory as it was.

Vitaly: Personally I've never been particularly interested in the exact recreation of stories by classical authors (including the appropriate attributes of the corresponding historical time involved). With all my respect and admiration for the great writers, I believe that as human beings we're all equal–simply some of us serving as mediums for "the voices" that help to discover the laws of the Universe. As a next step, a potential writer must have enough forces and self-discipline to prevail and translate the "call of voices" to the medium of literature. Consequently, each classical fiction work represents for me, technically speaking, a Patent/Myth serving as base/invitation for the explorations/discoveries of our own age. If I'm touched and inspired by a classical story, usually the discoveries I make during the writing of its contemporary version gives me enough enthusiasm to complete the draft. I would say that an adaptation would be easier to write since a basic story structure and the major characters already exist.
Besides Dostoevsky, who are some of your biggest influences?
Andrew: Kubrick's films are of great inspiration to me. Almost anything you need to know about the art of film can be found there.
Sidney Lumet's book Making Movies has taught me a lot.  It's the best book on filmmaking that I've ever read – and I've read a few!
Tuuli, my wife, and producer influences me every day with regard to advice and subject matter and self-confidence and personal behavior and encouragement.
My students and lecturing at a university is also a wonderful source of inspiration. I am constantly being forced to learn something new and watch something new so I have a new perspective for my students – and then their writing, films, and presentations always influence me too.
Vitaly: It may well be that every single book I've read has changed me in one way or another. There's a saying (based on a certain statistic) that most people experience the major portion of their "reading" by the age of eighteen (or something like that). I didn't like the classics in high school–because I was expected to read them by my "almighty" teachers. Instead, I preferred to escape to all the fairy tales and the popular adventure novels I could find…   I can mention, in this regard, the traditional "guys":  Jules Verne, R.L.Stevenson, S.H.R. Haggard, Arthur Conan Doyle,  Jack London, Hans Christian Andersen, and of course, rather  little known in the West Alexander Grin… Here's more.
What advice would you offer aspiring filmmakers?
Andrew: Actually, it's my day job to offer advice to aspiring filmmakers. I am constantly offering them advice. Regular advice is that art is not a competition even though it seems like it sometimes. There can be no comparison between art. Make a film that you want to see and make it well. You are not that unique – a good thing! – as it means that others will want to see it too.
Not all films are "important" but the are no less relevant for a director. So, if you are making something that is not from deep within your soul, then make it quick. Get on with it! You will learn from the mistakes and that's the best thing. However, if you are making something important, that comes from deep within you, be sure that you know what you are trying to say.  The theme and its visualization is the difference between craft driven movies and films that are closer to art.


Vitaly:  Never give up.
Special thanks to Andrew and Vitaly for sharing their insights with us. I can't wait to see both films.
Arlene

---
'Crime and Punishment': Apocalypse Films

When a destitute Ph.D. student commits premeditated murder in the name of a theory, he finds that his soul can only be saved through the love of a religious prostitute. But will he confess in time or will the cunning police investigator ruin his chance at salvation? A feature-length cinematic adaptation of Dostoevsky's masterpiece.
Website | Facebook | Twitter | IMDB | Vimeo
'Dostoyevsky Reimagined: The Making of Notes from the New World': VM Productions
SOMEONE — OR SOMETHING — DID NOT WANT THIS MOVIE TO BE MADE… It had the hallmarks of a thriller: betrayal and abandonment. Lies and innuendo. Colleagues caught up in a mysterious ancient cult. A side project gone terribly wrong. But these occurrences were not part of the script; they took place in real life behind the scenes of the production. The original concept was daunting enough: a contemporary, sun-drenched re-imagining of Fyodor Dostoyevsky's dark 19th-century classic, Notes from the Underground. At the outset, writer/director Vitaly Sumin had a script, a location, a vision, and no budget. But he'd been down this road before; his critically acclaimed previous film, Shades of Day, was an LA story based on another Dostoyevsky novella, White Nights. Since he did it once, everyone assumed, he could do it again — until a tsunami of unforeseen challenges threatened to tear these "Notes" to shreds. Dostoyevsky Reimagined stands as a compelling story in its own right, sure to inspire filmmakers and anyone else who wishes to achieve the impossible.