Good morning, fellow readers.
My blog this week will finally focus on the acclaimed film directed by Vitaly Sumin, Notes from the New World. This doesn't mean it's the last one I will write — actually the best is yet to come — but I feel I am ready to explore, and you're ready to learn about, Sumin and how he came to Los Angeles and made remarkable films.
Vitaly Sumin (writer/producer/director)– portrait of the artist as a young man
 In this blog I will step outside my position and, for once, I will be just like you — a reader thirsty for knowledge. In fact, for this blog I classify myself more as an observer, trying to discover what lies behind a man and his dreams.
I  interviewed Sumin in order to understand why he wanted to do his film titled Notes from the New World and what it meant for him.
For those who don't know, the film tells the story of Steven, a struggling actor, who is hired to play the lead in a show based on Dostoevsky's Notes from the Underground by Bob, a wealthy playwright. To gather material, Bob hires Irina, a mysterious call girl with ties to the Russian mafia. Irina visits Steven posing as Liza, the prostitute in the original story.
Danger intrudes when mafia money disappears; everyone is suspected. Fortunately, Irina's boss and lover, mafia member Misha, is distracted by the prospect of managing her to Hollywood stardom.
The characters' parallel destinies converge with the premiere of Bob's play. But after the curtain falls, the film goes on to answer; can true love, peace, and happiness be found in a world of ceaseless danger and deception?
On another level, the story suggests an amazing reading of the state of the postmodern world. Are we witnessing the realization of Dostoevsky's prophecies?
To make this film Sumin clearly had to understand the message Dostoyevsky wanted to convey and how to translate this message into a modern language we all can understand, which is what inspired him to start his journey into the impossible.
Sumin comes from Saint Petersburg, Russia where he was graduated with a Master of Science in oceanography from the prestigious Hydrometeorological University. He was also a member of the Union of the State writers, local chapter for juniors. From the beginning, Sumin had a dream — to see the world and write about it. Of course a writer (and artist in general) has no right to talk about things he or she doesn't know about or hasn't experienced. So Sumin thought oceanography as a profession could give him an opportunity to see the world and write about the things he observed.
Today Sumin continues to write fiction, deriving from it more pleasure than from his involvement in cinema. So why cinema? While being an oceanographer and sailing around the planet – putting into practice his dream of getting to know the world's oceans and so-called "exotic countries" — he realized both the importance and the limitations of available communications. So instead of translating his fiction to adapt it to the plurality of the world's languages, why not translate it into one common language — the language of cinema. (Sumin now states this was a very naive approach but he didn't realize it then.)
He started to shoot documentaries about the oceans and his experience as an oceanographer (with a nod to the work of Jacques Cousteau). However, as Sumin stated, one cannot do two things at the same time. So he abandoned his successful career as an oceanographer and was accepted for an Master of Fine Arts degree at l'Université Sorbonne Nouvelle (Paris III) in France.
He attended the courses for qualification as a professional filmmaker at l'Ecole Luis Lumière in Paris. Sumin subsequently worked as a writer and co-producer in the various productions. However, the most important school, as Sumin relates, was simply watching films. In those days there were more than 300 cinemas in Paris, screening all types of films from silent movies to Hollywood blockbusters. Because of his status as a student at l'Ecole Luis Lumière, Sumin enjoyed free access to all these cinemas (Sumin: "Viva la France and the official respect for the arts over there!").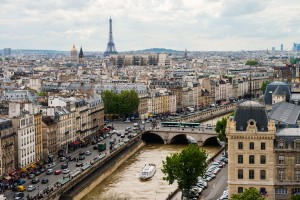 Paris, Paris… (click on the photo to enjoy the view)

Sumin enjoyed his years in Paris, however, as he relates with a smile, once one selects cinema as the language one becomes the slave of the medium. This naturally pushed Sumin to relocate to the capital of the world cinema; Los Angeles. It was there where he founded his company, VM Productions.
And now, let me go back and talk a little bit about St. Petersburg, an artificially created city, established in 1725, in the middle of the Nordic marshland. Westerly oriented king/czar Peter the Great spent billions to build from scratch the "Window to the West," Northern Palmyra – the beautiful, new capital of the Russian state designed primarily by famous Italian and French architects.
"Official" St.Petersburg
One hundred and some years later it became the city of Fyodor Dostoyevsky, considered by some to be a modern Nostradamus. We're talking about a prophetic writer whose psychological penetration into the deepest recesses of the human heart had a profound influence on 20th and 21st century culture and predicted many of the major cataclysms of our time. Like Dostoevsky, Sumin wouldn't be who he was without the profound influence of the city of dreams, St. Petersburg.
St.Petersburg of Dostoyevsky and the heroes of his books
And it was only natural that when Sumin found himself in another city of dreams, Los Angeles, he designated his new project Dostoyevsky-LA. It's committed to the creation of cinematic adaptations of four masterpieces by Fyodor Dostoyevsky.
"Official" Los Angeles
The first chapter of this ambitious project, Shades of Day, represents a contemporary envisioning of the short novel White Nights, one of the greatest love stories ever written.
The film received critical acclaim and was selected by Rutgers University professor Gerald Pirog for
his course in cinema
along with select films by Bernardo Bertolucci, Akira Kurosawa, Robert Bresson, Martin Scorsese, Paul Schrader, and von Sternberg.
Shades of Day – Director's Cut
-2013 (
recently re-edited
) was successfully screened at a number of international film festivals and became the winner of the
Moscow International Festival of Detective Films
in April 2013.
As mentioned eariler, Sumin's next film, Notes from the New World (the winner of a number of the international awards), is based on one of the most profound and prophetic works of world literature: Notes from the Underground.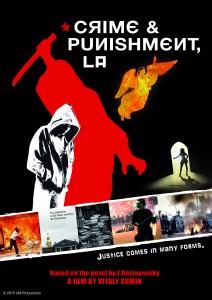 The two accompanying films in the tetralogy, Crime and Punishment, LA and Idiot, LA (the script received a grant from the Warner Bros Fund), are currently in development. Once completed, the project and accompanying educational materials will constitute a bonafide cultural event and catalyst for artistic truth by presenting a classic author to an entirely new generation in a fresh and exciting form.
Sometime after VM Productions was established in Hollywood, Sumin went to a party where he met Richard Crater, an acclaimed casting director and owner of the Hub Theater, located in North Hollywood's popular theater district. Rich helped to cast Shades of Day. Later, Crater suggested using the Hub as the major location for any films Sumin could come up with. That's how the idea of adapting Notes From The Underground was born. The two continued their collaboration further and Sumin's next feature, Notes from the New World, began to take shape.
Sumin wrote the first draft in three weeks, followed by several months of revisions and refinements. As the final script neared completion, he began the process of securing financing from supporters of his previous film, Shades of Day. Drawing on his experience and contacts from that film, he began to assemble his cast and crew.
I think I've given you enough information about Vitaly Sumin, at least for now. Do you want to know what happens next?
Do you want to know how
Notes from the New World
  became an acclaimed success?
Well, you just need to keep following us through our blogs and we will answer all your questions.
Have a good week-end.
Yours,
Dan
Be sure to sign for our free newsletter!  Visit us at home at Dostoyevsky Reimagined: The Making of Notes from the New World and on our social media pages: Twitter, Facebook, Google+, Pinterest, Tumblr, and Instagram.
Re-adjusted/re-written by Dan Marcus, copywriter and senior artistic adviser with VM Productions.