It's been a busy week at VM Productions: we've been connecting with fans across social media platforms, hired some new people to the team, and dealt with some unusual situations (although at this point, unusual is quickly becoming the new normal). Despite the complications and sometimes downright inexplicable events, things are progressing nicely with Dostoyevsky Reimagined: The Making Of Notes From The New World.
I'm particularly excited about the Members Only section. To thank fans for signing up for our free newsletter (which you can also find on our Facebook page), we're giving them exclusive content and behind-the-scenes footage. Currently when they sign up, members get a look at the chaos, confusion, and sinister scenes that made Dostoyevsky Reimagined a truly surreal experience. The film may have been inspired by Dostoyevsky, but this video footage is straight out of Hitchcock.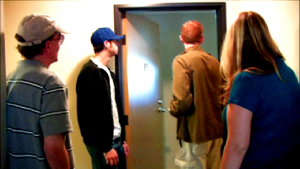 Regular readers of this blog (and followers of VM Productions) already know part of this story: the head screenwriter disappeared during filming, leaving behind chaos, confusion, and countless unanswered questions. Some believe Robert Hurley got too deep into his own story, making life imitate art on a truly dangerous level: ties with the Russian mob, mysterious girlfriends with hidden agendas, and ties to a sinister cult.
The Exclusive Content (available to members) shows a particularly volatile time in the production — one that threatened to topple the entire film. Who is the beautiful and mysterious new actress who sweeps into auditions and completely entrances everyone who sees her? Is she just another young actor looking for her break, or does she have more sinister intentions for the production? Is the Russian mob really tracking Hurley, or has his paranoia reached new levels? And what, if anything, does a strange cult have to do with all these problems?

Dark Onto Light — the cult that fascinated and eventually obsessed Robert Hurley during his research — is a series of mysteries and questions unto itself. Is this cult behind Hurley's disappearance and the endless problems that plagued Dostoyevsky Reimagined? Why did some members of the cast and crew have the pentagram tattoo that revealed membership to the cult? And perhaps most significantly, what exactly did Hurley stumble upon that the cult didn't want the public to see?
This video journal, in our Members Only section, reveals the fear, confusion, and chaos that the specter of the cult had cast over production. Paranoia, fear, and mistrust threatened to destroy the entire film production. The fact that Notes From The New World succeeded is a marvel. The fact that we have Dostoyevsky Reimagined: The Making Of Notes From The New World to document this crisis gives us a unique look into independent filmmaking and a mystery that persists to this day.
I have to confess, I haven't found answers to many of these questions in my research. Much like the film itself, my investigations have been plagued by inexplicable issues and strange circumstances. My research into Robert Hurley and the Dark Onto Light cult has been an adventure in and of itself. But that's a blog post for another time. In the meantime – watch the trailer–
Lauren.
——————————-
Enjoed the trailer? Be sure to visit us at home and sign up for our free newsletter at Dostoyevsky Reimagined: The Making of Notes from the New World. You'll gain exclusive access to our members-only content.
Follow this developing story through our social media on Twitter, Facebook, Google+, Pinterest, Tumblr, and Instagram.
MORE ABOUT HURLEY:
Lauren's blogs:
The Missing Screenwriter: Silence Speaks Volumes
Changes, Updates, & The Missing Screenwriter
Shari's blogs:
The Missing Screenwriter: Dark Onto Light continued
The Missing Screenwriter: Dark Onto Light
The Missing Screenwriter: The Journal
The Missing Screenwriter: Part Two
The Missing Screenwriter: Part One
If you have any information that could help us find Robert Hurley please contact VM Productions office. Please sign up by clicking here