It's because of you when I'm in bed in the morning that I can wind my spring and tell myself I have to live another good day."

― Haruki Murakami, Norwegian Wood

Fun Facts:
The novel's massive popularity upon its release launched author Murakami into Japanese super-stardom.
Norwegian Wood

has sold over 4 million copies in Japan alone.
Author Murakami is often recognized for the Western elements in his writing and lists Kurt Vonnegut and

Richard Brautigan

as early influences.
Literature Meets Pop Culture:
The novel was adapted into a feature film by academy award-nominated director

Tran Anh Hung in 2010.

Released in Japan, the film stars

Kenichi Matsuyama

as Watanabe

,

Rinko Kikuchi

as Naoko and Kiko Mizuhara

as Midori.

It was presented at the 67th Venice International Film Festival.
Synopsis:
Haruki Murakami's Norwegian Wood (1987) follows the life of young Toru Watanabe as a college student in Tokyo during the 1960s, an extremely politically and socially turbulent period. Toru finds himself thrown into a phase of personal transition and sexual exploration following the death of his dear friend Kizuki. The young man develops a relationship with Naoko, a girl who is also emotionally damaged. She eventually leaves Toru and quits school to seek treatment at a sanatorium.
Toru soon becomes friends with the vivacious Midori Kobayashi. Their friendship slowly blossoms into something more, though Toru still often thinks of Naoko and visits her at the sanatorium. Upon his return to school, he suffers from conflicting feelings for the two vastly different girls. The young man is faced with the question of whether or not he can trust himself to make the right decision for his heart and happiness.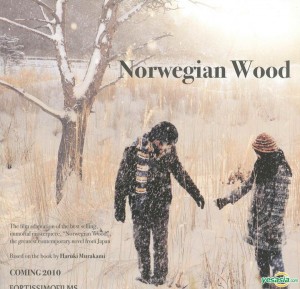 Message to our readers:
Tell us what you think!
Join our discussion forum and share your experience with this story of love and loss during one of the modern world's most revolutionary decades. What did you think of Toru's ultimate choice? Have you seen Tran Anh Hung's film adaptation ? Let's get started!
We hope you enjoyed this post. For more VMP Film and Literature Club posts be sure to visit us at home and sign up for our free newsletter at Dostoyevsky Reimagined: The Making of Notes from the New World. You'll gain exclusive access to our members-only content and the incentives.
Follow us through our social media on Twitter, Facebook, Google+, Pinterest, Tumblr, and Instagram.