Takeshi Kitano's Dolls (2002) weaves the stories of three couples together with a poignant thematic thread. Told in a series of overlapping vignettes Kitano artfully emphasizes the notion of love remaining constant despite an equally constant hardship. The introductory scene introduces the viewer to a bunraku, or traditional Japanese puppet performance, depicting two lovers in the midst of a sorrow-filled quarrel. From this scene until the last, Kitano consistently maintains a slow yet powerful pace, leaving the viewer with the feeling of having witnessed a contemporary opera. Dolls traverses Japan's bustling cities and tranquil forests to convey the gravity of great sacrifice and suffering all in the name of love.
The first vignette revolves around Matsumoto and Sawako, (played by Hidetoshi Nishijima and Miho Kanno, respectively). Matsumoto's parents convince him to leave his fiancée Sawako for his boss' daughter in order to secure a more financially stable future. This spurn completely devastates Sawako, resulting in a suicide attempt that leaves her brain damaged in a mental hospital. Matsumoto learns of Sawako's attempt on her life, and leaves his own life behind in order to devote himself completely to her. They wander the land in silence, but always together, known as the "Bound Beggars" due to the thick red rope Matsumoto uses to join them and prevent Sawako from straying into danger.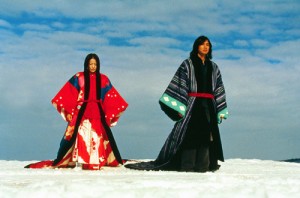 The second vignette follows a young man (played by Tatsuya Mihashi) whose girlfriend (played by Chieko Matsubara) brings him lunch in the park every Saturday. Frustrated with his failing factory job, the young man decides to join the Yakuza and tells his girlfriend that he cannot be with her until he becomes more successful. She vows to wait for him and bring his lunch to the park every Saturday from that day on. Now an old and seasoned gangster, the "young man" decides to visit the park and sees his former love still waiting for him, just as she said she would do those many years ago.
The third vignette depicts a traffic worker (played by Tsutomu Takeshige) who is obsessed with his favorite pop singer Haruna Yamaguchi (played by Kyoko Fukada). When Haruna is injured and disfigured in a car accident, she retreats from the public eye and refuses any visitors. Takeshige's character then resorts to an extreme and brutal act in order to spend time with his beloved.
Each vignette in Dolls is heartbreaking and tragic. However, the film's sadness is never overwhelming thanks to Kitano's masterful use of  imagery and pacing. While each couple willingly yet painfully suffers for their love, their plights are illustrated in ways that do more to emphasize the ultimate strength of love rather than its weakness. This technique is most notable in the narrative of Matsumoto and Sawako, particularly in the symbol of their rope. They travel across many diverse landscapes and eventually find themselves in the forest, with their red rope still in tact. Their rope hits snag after snag during their tumultuous journey, yet never breaks. The quiet scenes of deep red Japanese maple leaves falling into crystal clear waters capture the dream-like serenity of being in love and are effectively balanced by the lingering elements of sadness and sacrifice. Matsumoto and Sawako's presence in each vignette extends the loving metaphor of their rope to the film's other two couples, thus unifying the film as whole under the almost spiritual theme of complete surrender to the sacred power of love.
We hope you enjoyed this post. For more VMP Film and Literature Club posts be sure to visit us at home and sign up for our free newsletter at Dostoyevsky Reimagined: The Making of Notes from the New World. You'll gain exclusive access to our members-only content and the incentives.
Follow us through our social media on Twitter, Facebook, Google+, Pinterest, Tumblr, and Instagram.

Edited (& the visual material – fair use) by Ava Lanto