Hollywood has had an obsession with, well, Hollywood. While shooting in the Hollywood/L.A area  is an obviously smart business move, you may run into problems where your movies may be seen as something by-Hollywood-for-Hollywood that celebrates the industry. (An industry historically built on under-representation and both thematic and screen "white-washing")
The  Dostoyevsky-L.A Project: Shades of Day (2013), Notes from the New World (2011), and Crime and Punishment, LA (upcoming) all take place within Los Angeles,  portraying a unique story, amongst the familiar background scenery of greater Los Angeles. Similar to our films at VM Productions, each of these movies touch upon familiar themes of excess,greed,glitz, and glamour; creating a truly unique experience and visual representation for the greater L.A area.
1. Double Indemnity (1944)
Directed by Billy Wilder and starring Barbara Stanwyck and Fred MacMurray, this hallmark of film noir explored the love affair between an insurance agent (Fred MacMurray), and the wife of a client (Barbara Stanwyck), whoplots to kill her husband for the insurance claim.
2. Sunset Boulevard (1950)
Another great film-noir piece by Billy Wilder, In Sunset Blvd, a screenwriter (William Holden), develops a dangerous relationship with an aging silent movie star, caught up in the glitz and glamour of her former Hollywood life. (Gloria Swanson).
3. Network (1976)
Directed by Sidney Lumet and written by Paddy Chayefsky, Network, follows the story of an overworked and disillusioned News Anchor (William Holden) and an ambitious young network executive (Faye Dunaway), during the height of Network television, ratings, and the turbulent 1970's.
4. Mulholland Drive (2001) 
Written and directed by David Lynch, this cerebral, dreamscape, Romantic-mystery-drama, is one of my favorite films. Referencing noir classics like Sunset Boulevard, Lynch's Mulholland drive starring Naomi Watts and Laura Harring, follows the unfolding of an amnesiacs' story after her accident on the self-titled Los Angeles road.
Fun-fact: Mulholland Drive was almost a TV series, but it was scrapped last minute. David Lynch then re-purposed the idea as a feature-film.
(Remember that trippy intro and those weird shots Lynch used?)
5. Nightcrawler (2014)
Dan Gilroy's Nightcrawler, follows Louis Bloom (Jake Gyllenhaal), a con man who becomes an L.A crime reporter, and starts to blur the lines between reporter, and participant. Although not directly associated with the movie-making industry, Nightcrawler explores the themes of Fame and Success.
It's as if Patrick Bateman was transported to 2012 and subsequently lost everything in the market crash and had to find a part-time job!
6. Blade Runner (1982)
OK, I know what you're saying "Blade runner deals with Harrison Ford shooting Robot-Human-replicants", but bare with me…
In Ridley Scott's Blade Runner, the images that people present aren't always what they seem. Harrison Ford traverses a futuristic, post-modern 2019 L.A landscape, filled with mass advertising and consumption.  The movie deals with themes of identity; specifically, as it relates to self, and humanity.
I know this isn't the end-all-be-all list of every film that's ever been shot in L.A, but these are my personal favorites that truly play with the stereotypical image of "Hollywood" and "The Industry".
Did I forget any title you believe should be on this list?
Comments? Thoughts? Suggestions?
(All images sourced from imdb.com)
***
Want to know more about the films we make? Sign up to learn more about our methods, our projects, the upcoming premieres and grab our  FREE e-book (click on the cover below)!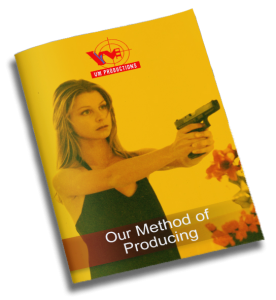 Follow us through our social media on Twitter, Facebook, Google+, Pinterest, Tumblr, Instagram and Goodreads
We hope to see you back here soon!-