Most people familiar with Dostoyevsky are likely to think of psychological darkness. Or perhaps his remarkable characters, from Roddy Raskolnikov to the Karamazov brothers. They may also be familiar with the numerous film adaptations, from Richard Brooks and Akira Kurosawa to Vitaly Sumin's recent adaptations of White Nights (Shades of Day)and Notes From the Underground (Notes from the New World).
What many might not know about Dostoyevsky, however, is his love of music.
It is an excusable thing, given that the Master of Petersburg didn't write much about music in his fiction. But not unlike Nietzsche's associations with the world of music, it is an essential part of who Dostoyevsky was and what he loved about life. While a bit pedestrian at times, the instances where Dostoyevsky wrote about music revealed a genuine understanding of the art, no doubt reinforced by all the operas and performances he went to once he was able to leave the barracks where he was doing military service as a youth.
One particular use of music in his corpus of Russian classics is Netochka Nezvanova, a novel that was only partially completed when Dostoyevsky was arrested for his political activities. Though incomplete, it is a very unique story, most notably for its female protagonist.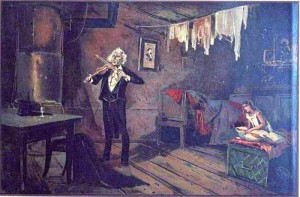 In this story, a girl named Netochka lives in a dirt poor family. Her stepfather, Efimov, is a violinist who believes that he is the greatest violinist around, and though he never practices he nevertheless has some kind of natural talent that at the most opportune moment reinforces his belief in his own genius. A unique psychological specimen who could be related to the drunkard Marmeladov in Crime and Punishment, Efimov ultimately meets his maker when he goes to hear a real master from Europe perform in St Petersburg. Initially dismissive of the master in public, the revelation of true genius overwhelms Efimov so much that it leads to his death. With the knack Dostoyevsky had for weaving together numerous different emotions, the detailing of Efimov's fate is as funny as it is sorrowful and profound.
If Dostoyevsky were alive today, he would certainly be happy to learn about the different ways in which his works have manifested themselves through music. Five notable instances include:
1. From the House of the Dead, by Leos Janacek
Those who are even casually familiar with classical music may know of Antonin Dvorak, the Czech composer most famous for his Symphony from the New World. Lesser known is Leos Janacek, Dvoraks Moravian contemporary. His last opera was a three act adaptation of Dostoyevsky's novel From the House of the Dead, based on Dostoyevsky's imprisonment in Siberia. One unique aspect of the opera is the use of chains as musical instruments.
2. Notes From the Underground – Almost as if to prove that weed and LSD were not the only pastimes the hippies indulged in, the 60's flurry of garage rock/psychedelic groups had more literary references than is generally given credit, from the very psychedelic sound of HP Lovecraft to the direct Dostoyevsky reference made by the Berkeley based band "Notes From the Underground". Though they were only able to produce two quickly forgotten albums with Vanguard, as a live act they were rivals of the more famous Country Joe and the Fish, whose Communist references were similarly obvious (Country Joe being a reference to Stalin and the Fish referring to a famous quote by Mao Zedong). It was as if the spirits of White and Red Russia had resurrected themselves in the world of rock and roll, albeit with less sympathy for the devil in this case.
3. The Idiot, by Iggy Pop – Iggy Pop, best known for his proto-punk Stooge-era screeching and Bowiesque hits like "The Passenger" and "Lust for Life," is just as well regarded for his first solo album, The Idiot. A direct reference to Dostoyevsky's novel of the same name, this album resurrected Iggy Pop's career with such hits as "Calling Sister Midnight," "Nightclubbing" and "Funtime." It also featured an earlier and less oriental version of "China Girl," which Bowie would record himself in 1983 for his album Let's Dance. Pop would later create an album influenced by Michel Houellebecq's novel The Possibility of an Island, titled Preliminaires.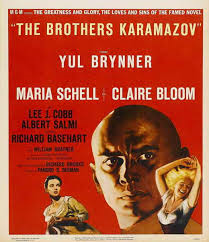 4. Soundtrack to The Brothers Karamazov – one of the more notable soundtracks to a Russian classic was Bronislav Kaper's score for Richard Brook's 1958 version of The Brothers Karamazov. Known for scoring such films as Mutiny on the Bounty and Lili (for which he received an Oscar), Kaper himself was acquainted with many writers in person during his exile in the 1940's, including Thomas Mann and Bertolt Brecht.
Click on the Poster to listen to the exposition's tune!
5. Raskolnikov Rocks! – the recent return of Russian classics to the world of film has not been restricted to that form of art alone. In September 2016, an open air music festival was held in London titled Raskolnikov Rocks!, presenting the story of Dostoyevsky's iconic hero in a simple fashion, courtesy of British director Phil Willmott.
Know of any other musical homages to Dostoyevsky? Or maybe homages to other Russian classics? Feel free to share them in the comments.
***
Want to know more about the films we make? Sign up to learn more about our methods, our projects, the upcoming premieres and grab our  FREE e-book (click on the cover below)!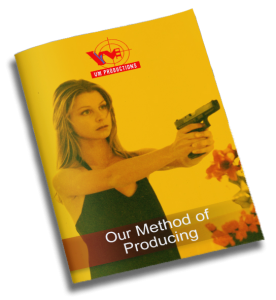 Follow us through our social media on Twitter, Facebook, Google+, Pinterest, Tumblr, Instagram and Goodreads
We hope to see you back here soon!-
Editing and Media