Dear Readers,
This is an electrifying account of a belated literary discovery.
Traditionally when I think of Dostoevsky I do not immediately think of Shakespeare. I imagine people don't tend to associate Russian classics with 16th century British playwriting. That is unless they are perhaps doing a graduate degree focusing on Russian-British comparative literature (which would be pretty cool). Or maybe they are just interested. But as difficult as it is for me to admit, despite the legendary status of these two great writers, this is the first time I have thought of them in connection to each other.
The moment I began to consider a connection between the two was when I first saw this quote referring to Dostoevsky as "…the Shakespeare of the lunatic asylum" – Count Melchoir de Vogue (1848-1910). I can't say I entirely agree with this statement as it seems a bit derisive. Still it does highlight Dostoevsky's connection to the famous play write.
I had been searching for information to write about Dostoevsky's influence on other great writers such as Virginia Woolf and E.M Forster, but suddenly became genuinely curious about who may have influenced Dostoevsky.
So equipped with nearly total ignorance of any substantial link between Shakespeare and Dostoevsky, I did a Google search expecting to find comparative literature between the two writers and did in fact find several articles comparing his works to Shakespeare's plays. I also noted that it has been suggested by some Russian critics that Shakespeare himself was one of his main inspirations. What? The incredible Dostoevsky being influenced by another writer? It seemed unreal.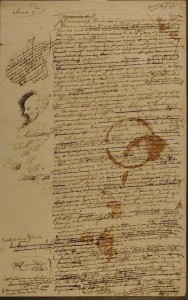 Fully prepared to write literary comparisons I was surprised at what I found next. The article written by Annie Martirosyan entitled "Dostoevsky Draws Shakespeare" from the Huffington Post was the one that interested me most. It showed a page from his manuscript Demons upon which Dostoevsky had apparently done a sketch of Shakespeare. I did a major double take. Dostoevsky doodled and he doodled Shakespeare! As both a fine artist and literary enthusiast this personal discovery fascinated me! Though I am aware that geniuses are often multi talented, I was still stoked.
Another thing I noted was that this sketch was really quite good!
I looked closer and studied it carefully.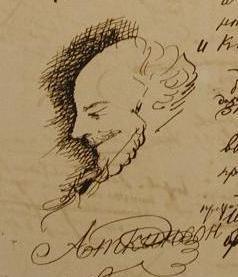 The drawing is a profile of Shakespeare looking slightly downward, wearing a modest smile upon his lips. The background in front of his face is darkened with a delicate, though definite crosshatch style, which more clearly defines his face, curly hair and beard. Surrounding this tiny sketch are notes and elegant typography markings.
The sketch suggests a fondness that Dostoevsky seemed to have for Shakespeare that I feel couldn't have been equally expressed in writing.
The paper, darkened by age is also marked with remnants of liquid from a tea cup placed upon the page. The desire to mentally transport myself to that moment, to imagine him in the process of writing was irresistible. As stated by Annie Martirosyan, "There seems to be no doubt that the drawing is indeed of Shakespeare –it depicts Shakespeare, credibly and most accurately… The Dostoevsky experts behind the discovery, Tikhomirov and Zakharov, have now confirmed the authenticity of the image as Dostoevsky's drawing of Shakespeare."
Personally I find that pretty exciting.
I decided then to look more closely into other kinds of drawings he did and compare them to this drawing of Shakespeare. According to the wonderfully written article Dostoevsky: the drawing as writing by Konstantin Barsht a researcher at the Russian Academy's Institute for Russian Literature (Pushkin House), among the most common types of drawings he did are listed here:
1. Portraits of men, women and children, 7%
2. Architectural Sketches (especially arches and Gothic windows), 26%
3. Calligraphic Notes, approximately 61%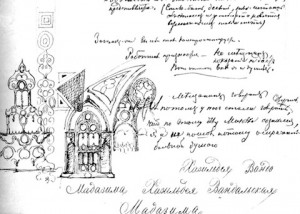 There is plenty of room to disagree with me but I will offer my personal impression of his sketches. Several of the faces he drew appear to have intensely morose, brooding faces consumed with unspecified suffering. Considering the nature of Dostoevsky's work, these expressions are effective visual representations of his writing. They are done with a consistent crosshatch and Dostoevsky utilizes shading to render upon the faces a three dimensional appearance. The drawing of Shakespeare however, does not include this attention to shading and is, might I say, of a more sanguine nature than his other human sketches. Other than the use of the cross-hatching, I saw nothing remarkably similar between the two styles of drawing.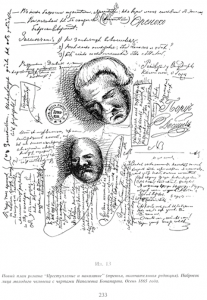 The feeling of delight upon discovering that Dostoevsky was both an admirer of Shakespeare as well as a visual artist was significant. I try to imagine him alternating between delicate etchings and then writing. I wonder what he was feeling whilst he drew those faces that seem so filled with emotion.
Indeed, Dostoevsky was not only one of the greatest writers of all times but an impressive sketch artist as well and it is his sketch that gives us a more visual affirmation of his link to Shakespeare.
We hope you enjoyed this post. For more VMP Film and Literature Club posts be sure to visit us at home and sign up for our free newsletter at Dostoyevsky Reimagined: The Making of Notes from the New World. You'll gain exclusive access to our members-only content and the incentives.
Follow us through our social media on Twitter, Facebook, Google+, Pinterest, Tumblr, and Instagram.

We hope to see you back here soon!
References:
Barsht K., "Dostoevsky: drawing as writing," Item [Online] Posted On: February 25, 2008Available at: http://www.item.ens.fr/index.php?id=223406
Martirosyan, A., Shakespeare draws a picture, Huffington Post December 16, 2014 and http://www.huffingtonpost.co.uk/annie-martirosyan/dostoevsky-draws-shakespe_b_6327176.html
http://www.openculture.com/2015/01/dostoevsky-draws-a-picture-of-shakespeare.html