It's no secret that the movie industry, since its inception, has become a constantly evolving medium. It all began in the 1890s with film clips that were little over a minute long. Within a decade, these miniscule operations had become a full- blown movement.
It wasn't until the late 1920s that film began to incorporate sound, and then later, color and special effects. And this was just the beginning of an era that is stronger now than ever. But where does Hollywood get all its ideas from? Surely, there can't be entire rooms filled with people constantly trying to churn out new ideas, so where then does the film industry turn to in times of need? Other storytelling mediums of course! Everything from comic books and graphic novels to books of all kinds have served to influence and inspire the movies we know and love!
While the idea of Hollywood and big film tends to be associated with the USA, the truth is that a lot of superior literature has come from places such as Europe, Asia, and Russia. This is especially true when it comes to deeper tales that involve philosophical quandaries and ideals. So then, let's turn our sights to Russia, a place where societal ethics and politico have always been a hotbed of conversation, and a place that, according to Emory University: "[Russia] has suffered not from a lack, but from an excess of philosophy."
Rather than trying to discover and weed out every single film that has been inspired by anything Russian (be it a book or a poem), let's look at some of the more popular adaptations to the screen…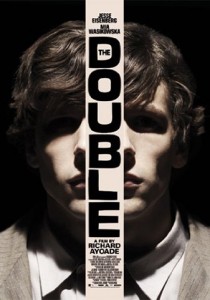 First up is a 2014 film named The Double, which was brought to life by director Richard Ayoade, and based on the critically acclaimed novel of the same name by Fyodor Dostoyevsky. Starring Jesse Eisenberg, this tour de force depicts the psychological toil one man goes through when he meets his evil doppelgänger. Although the idea is somewhat far- fetched, this dark marvel is certainly one that will leave you with just as many questions as answers.
There is no doubt that on a list of greatest directors of all time,Stanley Kubrick is near (if not at) the top. Known for both his aggressive perfectionism and nuanced—yet never subtle—undertones, Kubrick has adapted many great works into film. One of his greatest, and perhaps his most infamous, Lolita is one for the ages. Although the strict censorship that accompanied the 1960s prohibited the adaptation from being as explicit as the tale, the majority of the storyline remained unchanged. Some have long argued that the novel should not be considered Russian literature, due to the fact that it was first written in English and published in France. While I have focused on Mr. Kubrick, the truth is that the novel and the movie were both two separate amazing achievements, and were both works of art. While The Double focused on the dichotomy of two identical characters, Lolita spins the tale of a man who obsesses over a 12 year old girl after becoming her step- father. If you have not seen this 152 minute masterpiece, be sure to do so!
| | | |
| --- | --- | --- |
| | | |
Lastly, we come to a newer body of work that deserves honorable mention here. While there are several other amazing movies that I could obsess over (The Queen of Spades, Morphine, The Brothers Karamazov, the list goes on) the truth is that these two, while relatively new and maybe less spoken of than some of the others, are without a doubt gems that shouldn't be overlooked. Both were written and directed by Vitaly Sumin, a man with pure unadulterated vision and an undeniable fondness for the likes of Fyodor Dostoevsky, especially when you consider that both of these films are based on two of his separate works. The one thing that Vitaly manages to do is adapt these stories to a modern- day Los Angeles, where the drama is free to unfold in ways that you have to see to believe! The first, Shades of Day, is based on the classic novella White Nights. This film beautifully blurs the line betwixt tragedy and comedy as it tells the narrative of a woman who has planned her reunion with a former lover. It isn't long before her plans begin to change in ways that only Dostoyevsky could have first imagined, and only Sumin could have brought to life. The second film, Notes From the New World (which I have blogged about before) was borne of the original tale Notes From the Underground. In it, the main character is a man torn between two loves, neither of which are who they seem to be in a world far more dangerous than anyone would have believed. Both of these films are truly forces to be reckoned with, and even the critics have agreed when both have won several film awards!
| | | | |
| --- | --- | --- | --- |
| | | | |
| | | | |
| --- | --- | --- | --- |
| | | | |
My advice is this… We live in a digital age, where, at our beck and call, we hold the world in our fingertips. It takes little more than a few keystrokes and a few dollars to see or to read the stories that all of these visionaries have brought to life. If I can impart you with one thing, after reading all of this, it would be to take some time and look some of these titles up. Give them a little of your time, and I assure you that you will not walk away unhappy. And let me know what you think, I might even give you some more food for thought!
Be sure to visit us at home and sign up for our free newsletter at Dostoyevsky Reimagined: The Making of Notes from the New World. You'll gain exclusive access to our members-only content.
Follow this developing story through our social media on Twitter, Facebook, Google+, Pinterest, Tumblr, and Instagram.