Where are we? What's going on? How far have we come, and how much further do we have to go? Sometimes I'm unsure if I'm talking about working on Dostoyevsky Reimagined: The Making Of Notes From The Real World, the movie itself, or the endless rabbit hole that is my research on the disappearance of Robert Hurley. Things become murky the longer they go on; what was once fact ends up as fiction, and myths and legends are revealed to be concrete truths. Confused? Join the club.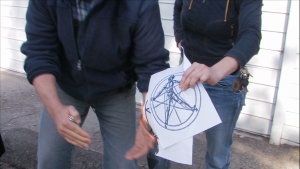 That being said, I do have a few things to discuss before I dive into my frustrated efforts to find any clues behind Hurley's disappearance. Followers of this blog (and fans of VM Productions) are well aware of how the talented and troubled screenwriter disappeared without a trace.
Yes, without a trace — a feat which seems impossible in this technological day and age. You'd think there would be footage or pictures or credit card histories… something. But as far as I can tell (and believe me, I've gone over the evidence until it runs together and stops making sense), Hurley vanished. All he left behind was the contents of his apartment, his disjointed notes, and a mass of confusion and half-truths.
And so much for holding off on discussing Hurley. His presence is so palpable in every image and frame of Dostoyevsky Reimagined that it's hard to put aside the mystery that surrounds him. Sometimes I feel like he's trying to tell me something in the space between the lines and words, passing along a message of what really happened. Other times I wonder if this is how he sounded before he started babbling about cults.
As always, please sign up for our FREE newsletter to keep track of my investigations and follow Dostoyevsky Reimagined's journey from the page to its final release. Members get exclusive content (including shocking looks at footage of the conspiracies that threatened to tear Notes From The New World apart) and opportunities to receive great incentives.
What sort of incentives am I talking about? Well besides your exclusive insider look at the process behind making independent film come to life, you'll have a chance to be part of the movie magic yourself. Who wouldn't love the opportunity to see their name on the big screen?
That's not even the most exciting incentive that's coming up (but I don't want to spill all my secrets just yet). So sign up for our free newsletter, follow us on social media, and as always if you have anything to contribute to my ongoing and seemingly eternally frustrating search for what really happened to Robert Hurley, please drop us a line.
Fiction and reality are two entirely different things, and it's dangerous to confuse them. Just look at what happened to Hurley. It's important to keep your feet firmly planted on the ground.
At least that's what I keep telling myself.
Be sure to visit us at home and sign up for our free newsletter at Dostoyevsky Reimagined: The Making of Notes from the New World. You'll gain exclusive access to our members-only content.
Follow this developing story through our social media on Twitter, Facebook, Google+, Pinterest, Tumblr, and Instagram.
MORE ABOUT HURLEY:
Lauren's blogs:
Production Notes: Saying Goodbye, Staying On Track, & Ominous Signs
Production Notes: Incentives, Updates and the Missing Screenwriter
The Missing Screenwriter: Silence Speaks Volumes
Changes, Updates, & The Missing Screenwriter
Shari's blogs:
The Missing Screenwriter: Dark Onto Light continued
The Missing Screenwriter: Dark Onto Light
The Missing Screenwriter: The Journal
The Missing Screenwriter: Part Two
The Missing Screenwriter: Part One
If you have any information that could help us find Robert Hurley please contact VM Productions office. Please sign up by clicking here