"The film has a magical look… Quite an achievement!"
Jonathan Dana, producer, former Director of Acquisition and Development for Samuel Goldwyn Company.
We are pleased to announce that our critically acclaimed film 'Shades of Day – Director's Cut' is an official selection for the 2015 BLOW–UP ARTHOUSE FILM FESTIVAL. 'Shades of Day – Director's Cut', a film by Vitaly Sumin, is a suspenseful Hollywood fable based on Fyodor Dostoyevsky's classic novella White Nights (considered one of the greatest love stories ever written), but here transported to modern-day Los Angeles.
The film crosses and re-crosses the thin line that separates tragedy from comedy. It introduces us to the enchanting LINDA (Camilla Bergstrom), whose life is centered around a planned reunion with her former lover PAUL(Brian Paul Stuart). Her plans change in remarkable ways as she encounters an extraordinary cast of characters, including a new lover and a movie producer who is being pursued by the Mafia.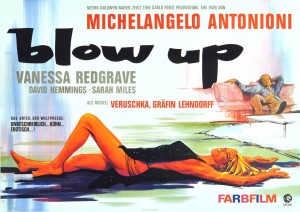 Blow Up International Chicago festival was named after Michelangelo Antonioni's 1966 film of the same name. We also love this film, and to celebrate, we have specially selected 'Blow-Up' as our Film of the Month. Please read Ava Lanto's Film Review.
If you sign up for a membership you will also be eligible to receive our newsletter and join our forum, as well as opportunites to double your rewards.

Connect with us on our social media on Twitter, Facebook, Google+, Pinterest, Tumblr, and Instagram.