WARNING: There are imagines and information in this blog some people may find disturbing. Please read at your own discretion.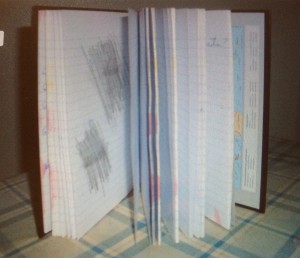 When screenwriter Robert Hurley disappeared; members of the cast and crew of Notes from the New World went to search his apartment to find their only shooting script. What they found was so much more disturbing.
His apartment had been abandoned, from the looks of things, Hurley had left in a hurry. The cast and crew who went looking for Hurley found his apartment door unlocked, the TV was on, Hurley's bed was unmade, his keys were on the table, and while there was no shooting script to be found they did find Hurley's journal.
The book is a bit of a mystery all on it's own. There were drawings, many of naked women, pages ripped out, and pages folded up and stuck in the book. The journal was written in Hurley's own hand. When you looked at the book from front to back it seemed to be one story but when you flipped the book over and looked at it from the back to the front there seemed to be a very different story.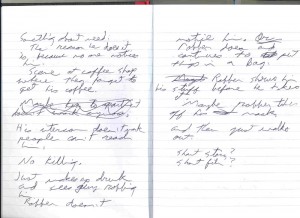 When reading the journal, it's impossible to know if this book was used to work out script ideas or if this was a chronicle of his life. Some of the things written in his journal do follow along with things alleged to have happened in his life but other entries seem too farfetched to be real-life, or are they?
The script Hurley was working on for Notes from the New World followed an actor who meets and falls for a prostitute. It has been alleged Hurley wanted to research this storyline by actually hiring a prostitute himself. Hurley's friend writer/director/producer Vitaly Sumin had a friend in Russia who ran a dating service and he connected the two.
Hurley was known to be a secretive person. He chronicled things in his journal he didn't speak of with those around him. Hurley wrote about falling in love with the call girl he met, Natalya.
Today I met the most beautiful woman. Vitaly's friend Stephan owns a dating service. She's a call girl, but promises she won't do this for long. Her name is Natalya. Things are good so far. Last night we had dinner at Traxx, then she came over. She made me breakfast this morning.

I can really see myself with her.
It was believed she was involved with the Russian mafia. Hurley also wrote he believed she and the mafia were involved in ancient cult called Dark Onto Light. Hurley made detailed entries about cult meetings in which prostitutes were ritually sacrificed.
I'm so exhausted from my trip back from Toluca in Mexico. Natalya and I had a wonderful time, but I want to find a way to get her away from her mafia bosses. They're all involved in some secret society which worships Satan! When she told me about it, I didn't first believe her. Then I saw it for myself. Natalya knew about a meeting and we followed her bosses to their monthly ritual. We peered inside the window I saw the most unbelievable things. They use golden daggers and take turns slicing their arms and dripping the blood into a gold cup. Each take turns sipping from it. A woman was tied down in the center of the room with a 5-point star drawn in the center. They all gathered in a circle and chanted, then they cut into her wrists and drank her blood. I'm so afraid for Natalya.
Were these things really happening or were these just script ideas he was working out?  If we take these events as truth, Hurley was mixed up with extremely dangerous individuals. Did the Russians they were following discover Hurley and Natalya spying on them? Was Hurley abducted or did he disappear on his own? Hurley's friends still hold out hope that one day soon they will have answers to all of these questions and more and Hurley will be found safe and sound.
If you have any information that could help us find Robert Hurley please contact VM Productions office by clicking here.
 Keep following this series on The Missing Screenwriter for more information on the cult Dark Onto Light.