Long before Bogart could capture audiences' attention in the cinema, his image on a poster was necessary to inform crowds of an upcoming release. Film noir posters — ironically — must be noir-like while avoiding the essential element of a noir film: black and white imagery. FIlm noirs don't work if shot in color. Poster arts, however, won't work when presented in black and white.
Three Bogart one-sheet posters do an exceptional job of delivering film noir elements while maximizing full-color artwork.
The Big Sleep (1946)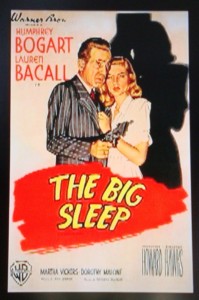 Raymond Chandler's Phillip Marlowe comes to life in 1946's The Big Sleep. As popular as Chandler's novel was, the film needed star power to sell tickets. Humphrey Bogart and Lauren Bacall return together on film to recapture the box office magic of To Have And Have Not. Warner Bros. wisely featured the two in one promotional poster. The image of Bogart and Bacall in the forefront comes off as mundane. Bacall leans on a gun-wielding Bogart as they stare down a threatening menace.
What's more interesting here is the background. A shadow accompanies Bogart and Bacall's full-color rendition. The shadow effectively sneaks in the dark and ominous noir nature of the film. The casted shadows create a sense of foreboding mystery — this won't be a conventional PI film, the proceedings will be far more sinister. The subtle shadow gets this grim sentiment across well.
OTHER VERSIONS:
In a Lonely Place (1950)
In a Lonely Place
won't ever rank as one of Bogart's most well-known movies, which is unfortunate. The feature ranks as one of his best. Bogart once again finds himself accused on murder and surrounded by evil characters looking to do him in. Atypically, Bogart's character isn't a private eye or a gangster — he plays a down-on-his-luck screenwriter. Screenwriters don't usually find themselves surrounded by mysterious circumstances. (Unless you count the strange disappearance of
Robert Hurley
. His tale is chronicled in the tale
The Missing Screenwriter
.
Besides being in a lonely place, Bogart's character is in unfamiliar territory. Screenwriters don't usually find themselves in the center of a murder mystery. The poster depicts an aged and strange depiction of Bogart's troubled screenwriter. The character doesn't seem worried about his impending fate. His facial expression almost welcomes the insane situation he finds himself. Perhaps the accusation of murder garners a welcome. It gives meaning to an otherwise failed life.
(And again, does the tale of Robert Hurley in The Missing Screenwriter follow similar intrigue? Read the story to find out!)
Dark Passage (1947)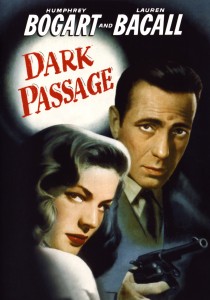 Bogart and Bacall return to the screen and also to the feature's poster. Some "cheating" occurs with this poster. The color imagery employs dark, stark colors. Dark blue and dark green appear centered in a poster encircled by dark black shadows. Both Bacall and Bogart wear white shirts, but casted shadows envelop the shirts. Bacall's hair also appears hidden in shadows. The bright red title Dark Passage lands centered in a white spotlight. Yes, there's a light of black and white imagery surreptitiously presented in a "color" poster. The colors are drowned out by the shadows, shadows that create the impression the film isn't just dark due to nightfall. The feature embodies the darkness of the crime — murder — at the center of the plot.
 OTHER VERSIONS:
True Bogart Fans…..
Bogart's film noir escapades prove memorable. The brilliance of the features' filmmaking makes them timeless classics. Unfortunately, the poster art that promoted the films becomes forgotten. Serious fans of noir and Bogart won't overlook the one-sheets and the incredible dark passion found in their artistry.
And don't forget about our Robert Hurley. Or else, he'll stay missing.
***
Be sure to visit our websites and learn more about our screenwriter Robert Hurley and the film that was made about his disappearance at Dostoyevsky Reimagined: The Making of Notes from the New World.
Want to know about VM Productions' "Dostoyevsky-Los Angeles Project" (initiated by Robert Hurley and Vitaly Sumin) & about the films we make? Want to participate in our projects? Sign up to get the tickets to the premiere of our movie in post production Dostoyevsky Reimagined-BTS and
grab our  FREE e-books !

Follow this developing story through our social media on Twitter, Facebook, Google+, Pinterest, Tumblr, Instagram, Goodreads.

Edited (& the visual material – fair use) by VM Productions