There's no doubt about it, film making has come a long way. Within the past 50 years we have seen modern films splash our screens with an overlay of bright colours, we have immersed ourselves in impressive character dialogue and watched as special effects have made the unrealistic appear realistic in front of our very eyes. But how many of us honestly think about where it all began? When we watch our favorite films we don't really think of where it all came from, the growing process that have made our films seem more lifelike and more aesthetically pleasing than ever. In this blog post I will be listing the very firsts in film making that allow Hollywood blockbusters and indie films like those created by VM Productions to bring us the stories, special effects and the cinematic magic most of us take for granted.
The first film ever recorded
Roundhay Garden Scene ( 1888)
The Roundhay Garden
scene is an incredible watch for film fans and history buffs being the oldest surviving film in existence. This historic film was shot in Yorkshire, England by Louis Le Prince on his own invention the  LPCC Type-16 ( a 16-lens camera) and featured Prince's in-laws Joseph and Sarah Whitley and friend Annie Hartley simply walking. Although only seconds long this recording was a breakthrough in cinematography and Prince is often said to be the Grandfather of film.
Interesting facts:
– Prince disappeared mysteriously two years after this film was made, his strange disappearance left many  questions unanswered just like to VM Production's screenwriter Robert Hurley's disappearance.
-Sarah Whitley died 10 days after filming the Roundhay Garden scene, making her the first person ever in a film to die.
First ever horror film
Le Manoir du Diable (1896)
Le Manoir du Diable/The House of the Devil 
was the first horror film to ever be made. Although it would fail to scare even a child today I can't help but wonder if this horror first gave the viewers of the 19th century nightmares. Directed by French film-maker Georges Méliès, this movie will be seen as a 'short film' to modern viewers but it was one of the longest films yet produced, running over 3 minutes long.The plot sees the demon Mephistopheles battle two cavaliers by conjuring up various supernatural figures. The film depicted many recognizable horror characters such as a vampire bat, ghosts, goblins and a skeleton. Méliès makes use of special effects with characters often disappearing and appearing in a cloud of smoke, quite impressive for a film made over a hundred years ago.
Interesting facts:
-Despite my curiosity as to whether this did actually scare viewers, this wasn't this film's purpose. Méliès created The House of the Devil to amuse rather than frighten, I imagine as modern horror-comedy films do today.
-Many 'goofs' are present in this film. If you watch closely you can see the entire set shake as well as one of the ghosts accidentally walking into a wall.
The first use of special effects
The Execution of Mary Stuart ( 1895)
Execution of Mary Stuart
 is a short film produced by Thomas Edison and directed by Alfred Clark which depicts the execution of Mary, Queen of Scots. Running just 18 seconds long this was the first film to use special effects as we see the Mary having her head chopped off with an axe followed by the executioner holding it up for the crowd to see. The head of Mary was replaced by a dummy but the audience, unfamiliar to the art of ' camera tricks' were convinced the actress Robert Thomas had gave her own life for the re-enactment.
Interesting fact:
-This was the first film to hire a trained actress to perform.
The first full length feature film
The Story of the Kelly Gang ( 1906)
So far on this list we have had film firsts lasting no longer than 3 minutes.
The Story of the Kelly Gang
was the first of it's kind running over an hour long. This Australian silent film, directed by Charles Tait traces the exploits of bushranger and outlaw Ned Kelly and his gang. Despite the film's commercial success it was considered a lost film until the mid 1970's when part of the film was recovered, however a fair amount of footage is still considered missing.
Interesting facts:
-Due to direct influence on crime after the films screening across the country The Story of the Kelly Gang was banned in Benalla and Wangaratta- two towns with strong Kelly connections after a group of five children broke into a photographic studio to steal money and held up a group of children at gun point following inspiration from the movie.
-The budget of the film was estimated to be around $2,000 dollars which would have been very expensive at the time.
First literary adaptation on film
Cinderella ( 1899)
Another film on this list from George Méliès,
Cinderella
is one of the first film adaptations ever to be made. Everybody is familiar with the story of Cinderella which was first published in 1634 and is still being adapted for films today. Méliès took inspiration from an 1895 stage production of the story and also modelled the film's visual style on the engravings of Gustave Doré, who had illustrated the story for an edition of Perrault's fairy tales. Méliès adaptation of
Cinderella
was his first major cinematic success and also his first film containing multiple scenes.
Interesting facts:
-George Méliès had a strong interest in stage magic and performed onstage as a magician. Perhaps explaining his talent for special effects within his films.
-This film was the first to utilize a dissolve transition between scenes.
First film to contain sound and recorded dialogue
The Jazz singer ( 1927)
By the 1920s film had already reached popularity, film studios such as Warner Bros were established and were producing feature length films. The 1920's is often touched upon when delving into film history and is iconically know as the ' silent era' due to the popularity of films which featured no sound. In 1927  
The Jazz Singer
, influenced and abled us to enjoy films as we do today and is the first film to include sound, voices and a recorded music score.
The Jazz Singer
was a musical film ( what better way to broadcast the use of sound) and depicts  a young man who defies the traditions of his devout Jewish family.
Interesting facts:
-The first words recited are: "Wait a minute! Wait a minute! You ain't heard nothin' yet!"
-The Jazz Singer contains the use of 'blackface' ,although a  common practice at the time is now widely considered to be racist.
First use of natural colour
A Visit to the Seaside (1908)
As a child I vaguely remember seeing an old black and white movie and coming to the conclusion that life itself was void of colour back then (a quick internet search tells me I wasn't the only one who thought this) but I obviously hadn't seen this film from 1908.
A visit to the Seaside
directed by George Albert Smith was the first successful motion picture in natural colour. The effect was achieved using Kinemacolor which was invented by Smith himself which later went on to influence the creation of Technicolour. The film itself was 8 minutes long and featured people going about their daily activities at Brighton Seaside, UK.
Interesting fact:
-Similar to director George Méliès, George Smith was also a stage magic performer and was a hypnotist, psychic and magic lantern lecturer.
*****
Want to know more about the films we make? Sign up to learn more about our process, our projects, the upcoming premieres and grab our  FREE e-book (click on the cover below)!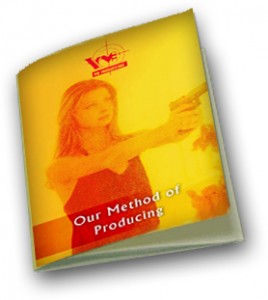 Follow us through our social media on Twitter, Facebook, Google+, Pinterest, Tumblr, Instagram and Goodreads
We hope to see you back here soon!-