Traditional horror movies were highly popular at the beginning of the present century. Their main purpose was to scare people. But recently they started to fail – people weren't interested in just a "scare" anymore. And this pretty much explains how intelligent horror movies began to take over the filmmaking industry.
Midsommar is exactly that type of horror movie. It was created by Ari Aster – a young American director and screenwriter who received 19 nominations and 11 movie awards for the film. The story is about a group of American students visiting the Swedish festival known as Midsommar  (Midsummer)—an old and mysterious celebration. They soon discover that the event is not what they expected it to be.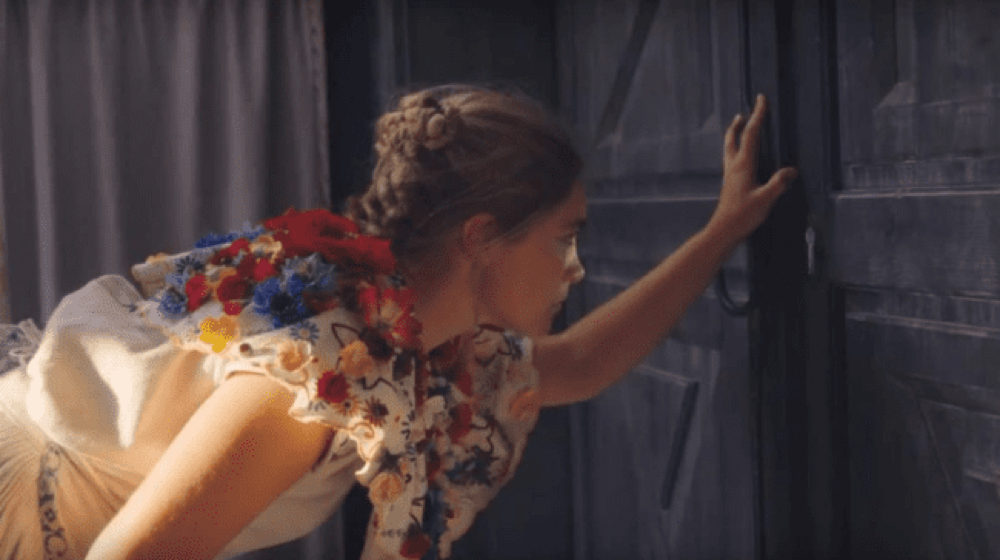 This movie will scare you, surprise you, and make you think. I'm not going to lie—there's a moment when it all seems pointless and weird, a pile of unanswered questions. But the best thing about the film is that you come to realize that there is something important that the director wants to say to us. As soon as we answer the questions it all makes sense. For example, there are certain revelations in this movie that Russian writer Fyodor Dostoyevsky used to write about in his stories. I'll attempt to prove that point with what is probably the most memorable scene in the movie:
Dostoevsky's work slides its way into copious entertainment. There are countless modern adaptation
The students witness an ancient ritual which in which two commune elders attempt to kill themselves by leaping from a cliff onto a rock. Dani and her friends are shocked but another elder calms them by explaining that this is a normal event—every member of their commune does it when they reach the age of 72 to "make space for a new generation."
It's all very interesting but one might ask what this story has to do with a writer who lived in another century? To answer that question, I'll refer to the Dostoyevsky's novel Notes from Underground: "I am forty years old now, and you know forty years is a whole lifetime; you know it is extreme old age. To live longer than forty years is bad manners, is vulgar, immoral. Who lives beyond forty? Answer that sincerely and honestly and I will tell you who does: fools and worthless fellows." Given that life expectancy at birth in the mid-19th century was around 30 years, his words make perfect sense.
Ari Aster presents the same idea—that living beyond a certain limit is vulgar and immoral. But in Midsommar, this limit is extended. The age of 40 in the 19th century is equivalent to the age of 72 nowadays. Consider that the current life expectancy for the U.S. in 2020 is 78 years. This 2019 film therefore interprets the words of Dostoevsky's 1864 novel from a contemporary standpoint.
However, if we look deeper, we'd understand that the film's story is about a breakup. Dani is going through a profound personal crisis after losing her sister and her parents. For support, she reaches out to her boyfriend Christian, the only person she has left. But he's cold and distant and even thinks about breaking up with her, though he does try to be caring at times. Later, the couple and some of his friends attend the midsummer celebration together. Dani senses that the relationship with Christian isn't working but can't face the facts. She's too afraid of losing him.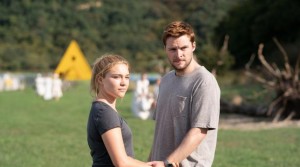 Ultimately, however, she achieves her freedom—and ends up being crowned May Queen. Dani doesn't need Christian anymore (as it turns out, he also cheated on her). At the end of the movie, her smile reveals something between horror and release. It tells us that she's finally found herself, her place in life, and peace, and at the same time we know at what cost. Eight human lives must be sacrificed, the price she pays for her happiness and freedom.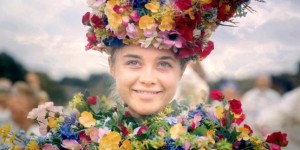 The theme of sacrifice is also explored in Notes from the Underground. You'll recall the moment when Dostoevsky's Underground Man stops being weak for his lover Liza. He is horrible to her and essentially uses her, despite the fact that she's treated him with kindness and caring. Though Christian was likewise patient and caring with Dani, both she and Dostoevsky's protagonist choose to free themselves from their respective relationships in the end. They both rise above. And by making someone suffer, I believe, they hurt themselves.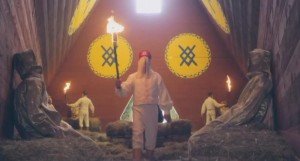 Another theme of the movie is rebirth. In the end, Dani has changed completely. She's an entirely new version of herself, much like, the famous protagonist of Dostoyevsky's Crime and Punishment. Rodion Raskolnikov goes through similar changes and at the end of the novel is in the process of being reborn. But there's a key difference between the two situations: Raskolnikov's rebirth is connected with his feelings for a woman whose love initiates the impulse that sets him free; in Midsommar it is Christian's betrayal that leads to Dani's freedom. To become happy, I suppose, we sometimes need to go through suffering that sets us free.
Both of Ari Aster's movies to date – Hereditary (2018) and Midsommar (2019)—can rightfully be regarded as examples of intelligent horror. They lead us to ponder deep philosophic issues while simultaneously giving us goosebumps. Any horror movie can scare people; making an audience think is a much greater challenge. Director Aster leaves it up to us to find the central issue and the meaning of the movie that lies buried under all the horror. And that, I believe, is one of the prime purposes of a great film– to stimulate thought through story.
Edited by Daniel Marcus with VM Productions
***
Want to know about VM Productions' Dostoyevsky-Los Angeles Project and about the films we make? Want to participate in our projects? Sign up to get tickets to the premiere of our movie (currently in post production), Dostoyevsky Reimagined-BTS and grab our FREE e-books !

Follow us through our social media on    Twitter, Facebook, Pinterest, Tumblr, Instagram, Goodreads.