Clicca qui per leggere questo blog in italiano
---
Fyodor Mikhailovich Dostoyevsky lived in Russia in the 19th century. An era of diseases and conflicts where any form of art could represent an escape from reality and might change reality itself into something warmer, healthier, better … Art meant comfort and outburst, expression of inner thoughts but it was also a conveyer of socio-political opinions. It was a means to an end and it was so much more than that.
However, Dostoyevsky never escaped real life, he never denied the darkness of it: his work realistically reflected themes such as poverty or morality, family relationships, politics and social issues and he often intertwined them with his personal life experiences. And yet, it is hard to understand whether or not what he wrote mirrored his thoughts, his feelings and what he stood for. 
Understanding him and his novels is not an easy task. One might grasp the core themes but there is always something more, something deeper to find: dreams hidden in the dirtiest reality, hope in the hardest of situations … It's a treasure hunt among white pages and black ink.
At this point, there is only one question to ask: how can an adaptation movie contribute to unveiling the secrets of a complex, mysterious novelist such as Dostoyevsky? 
Simple, it can't.
Unless …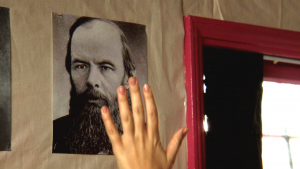 Unless the adaptation movie itself is complex and mysterious and doesn't try to decode Dostoyevsky, but rather it proposes a new, modern way of interpreting him and his literature. In other words, it's a parallel that doesn't need to cross paths with Dostoyevsky trying to emulate him, it is simply inspired by his genius and works its own way into a different, independent story with surprising twists and a style that is clearly yet delicately connected to the Russian author's. This is the exact description of both Notes from the New World – inspired by "Notes from the Underground":

Shades of Day -inspired by "White Nights", one of the greatest love stories ever written:


—and finally – Dostoyevsky Reimagined: The Making of Notes from the New World:
All these three films written, directed and produced by Vitaly Sumin, represent the perfect continuation of such commitment, not only to independent film making but to a specific person who gave an unprecedented contribution to the world literature, such as Fyodor Dostoyevsky.
Re-imagining the author and his story is not only the goal of this project but also its driving force and strength and all the people who love Dostoyevsky's novels will understand and appreciate this new way of looking at him and his work through the eyes of real life, in the present.
Be sure to sign for our Free Newsletter  by visiting us at home at Dostoyevsky Reimagined: The Making of Notes from the New World and on our social media pages: Twitter, Facebook, Google+, Pinterest, Tumblr, and Instagram.