Welcome back to the Dostoyevsky-BTS blog faithful readers and hello to all glorious newcomers! Previously I discussed Dostoyevsky's influence on British Edwardian writers such as Woolf and Forster. Today I shall endeavor to discuss an American writer by the name of William Faulkner who was also an ardent admirer of the famous Russian genius. I shall offer a mere hors d'oeuvre which I hope will inspire you to further study these two great writers.
Though I have little experience with post-Edwardian literature, I found Faulkner interesting. His blunt, raw style is decidedly different from the18th-19th century writers I generally read.
Born on September 25, 1987 in Albany Mississippi, William Faulkner is considered one of the greatest American writers of the 20th century. Winner of two Pulitzer prizes for fiction and the Nobel Prize in Literature his name is familiar to many, even those not well acquainted with literature. His fame was recognized on a global scale, even being given the prestigious title of Chevalier de la Legion d'Honneur in France in 1951.
This may come as a surprise to some of you, but he wrote screenplays for Hollywood starring some of Hollywood's greatest actors such as Lauren Bacall, Humphrey Bogart and Paul Newman!
Not only a writer, but also sociologist and historian, he lived nearly his whole life and wrote his books in Oxford Mississippi, a city known for writers. He is known and revered for bringing the unique cultural landscape of the south to life.
It is no secret that Faulkner was an enthusiast for Russian literature. His vast, varied bookshelf contained work written by Tolstoy, Chekhov as well as Dostoyevsky. In fact, Faulkner was so influenced by Dostoyevsky that even a book was written about the two authors entitled: "Faulkner and Dostoevsky: Influence and confluence" by Jean Weisgerber.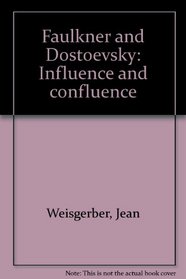 Russian literature had a profound affect on his writing. "Faulkner himself confessed more than once the influence produced upon his work by Dostoevsky's books, mentioning The Brothers Karamazov among the books he reread every year" (Hamblin 337).  Faulkner applied much of what he learned through a romantic literary expression of the south. I find the idea of southern American writing influenced by one of Russia's literary giants to be intriguing to say the least.
"the problems of the human heart in conflict with itself which alone can make good writing. . ."
But what was it specifically about Dostoevsky that Faulkner so admired? "Faulkner appreciated most of all Dostoevsky's ability to portray subconscious contradictory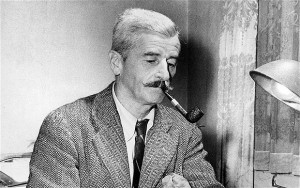 human feelings. The striving to analyze the depth of the human psyche, to explain its complexity and it paradoxes, leads critics to see in Faulkner Dostoevsky's student" (Hamblin 337). It was partly the influence of Dostoevsky that inspired Faulkner to center his work around the inner conflict of the individual,"Like Dostoevsky, Faulkner was interested in studying the crisis of a personality who found himself amidst crisis in society" (Hamblin 337).
At the Nobel Banquet at the City Hall in Stockholm, December 10, 1950 Faulkner stated what he felt was the goal of writing, "the problems of the human heart in conflict with itself which alone can make good writing because only that is worth writing about, worth the agony and the sweat."
Though not his most famous work, "Absolom Absolom!" published in 1936 has been called "The greatest southern novel ever written." Quite high praise indeed! "Absolom Absolom!" demonstrates this focus upon the internal struggle of the individual, one that he would use in his subsequent work as well. Spanning the time before, during and after the civil war this novel focuses on the life poverty born protagonist, Thomas Sutpen. Thomas portrays similarities to that of Dostoyevsky's famous protagonist from "Notes from Underground" published originally in 1864 and adapted by our director Vitaly Sumin in 2011 in his contemporary retelling of Dostoyevsky's story set in Los Angeles and titled Notes from the New World. Sutpen's nature is revealed early in the novel: "It seems that this demon — his name was Sutpen —…men like him, had 'valor and strength' but no 'pity or honor'" (Bockting 275). His intense moral depravity is arguably a result of his deep sense of societal rejection… "only an artist could have borne Sutpen's ruthlessness and hurry and still manage to curb the dream of grim and caste like magnificence at which Sutpen obviously aimed" (Faulkner 29). Sutpen yearns to attain an elevated pedrigree which remains out of his reach and ultimately fails; and despite his apparent strength and determined personality he is unable to escape that which in himself he loathes, "…Sutpen's fierce and overweening vanity or desire for magnificence or for vindication or whatever it was…so created of Sutpen's very defeat…" (Faulkner 29).
| | | |
| --- | --- | --- |
| | | |
This internal psychological paradox is also seen in Dostoevsky' Notes from the Underground. Similar to Sutpen, the protagonist in "Notes" declares with a mixture of both pride and self disgust, "I am a sick man…I am a wicked man. An unattractive man" (Dostoyevsky 3). Though more forthcoming and aware of his own depravity, like Sutpen the protagonist is burgeoning with a festering sense of societal rejection. They both share an internal disparity between who they are and that which they aspire to be. The embittered, recluse protagonist, consumed by chronic negativity is so burdened by self-disgust and spite toward others he is unable to co-exist productively with society around him.
However easy it may be to cultivate a contempt for these two protagonists, it is perhaps their lack of intent toward moral depravity that persuades many a reader to pity rather than despise them. The salient resemblance being that they are consumed with internal conflict ultimately present in humankind as a whole.
Another of the many similarities between the two writers was their  use of stream of consciousness as a style of writing. A phrase coined by psychologist William James, stream of consciousness is a device that gained popularity in twentieth-century literature" (literarydevices.net). If you are not already aware, writing a stream of consciousness is " to emulate the passage of thought through your mind without any inhibitors…" (Huang),  an unfettered flow of thoughts in the mind. This should not be confused with "free writing" which lacks the deliberate nature of the stream of consciousness approach. Stream of consciousness can result in longer sentences, a more spontaneous style and can also be thought of as an "internal monologue". This style of writing this is certainly not to everyone's taste, some may even find it unpleasant. Needless to say, though we see this style in the work of both writers, their work is still entirely distinct. While reading Dostoyevsky I am personally so mesmerized by the story itself I am easily drawn into the fluidity of his apparent thought process. Though this may be be untrue for other readers Faulkner's process, at least for me, was more distant and significantly harder to relate to. In my view it is not readily noticeable that they both utilize this method, as their styles are so apparently different, but indeed they do. If and when you decide to read Faulkner you may notice his strongly distinct version of this style.
But I have today touched only upon the beginning of a few consistencies between the two writers. To truly appreciate this subject in depth requires ongoing study. Faulkner was not the only writer certainly to cultivate a deep appreciation of Dostoyevsky but he appears to have been one of the most devoted.
Hopefully you will pick up a novel by one or both of these two great writers today and enjoy!
For more information about our company VM Productions, our project Dostoyevsky-Los Angeles and the director Vitaly Sumin and his incredible visionary adaptations of Dostoyevsky's masterpieces come visit us at the Dostoyevsky-BTS website: http://www.dostoevsky-bts.com. Also be sure to visit us at home and sign up for our free newsletter at Dostoyevsky Reimagined: The Making of Notes from the New World. You'll gain exclusive access to our members-only content and the incentives.
Follow us through our social media on Twitter, Facebook, Google+, Pinterest, Tumblr, Instagram and Goodread

We hope to see you back here soon!
References:
Faulkner, William. Absalom Absalom. Vintage International, 1986.
Dostoyevsky, Fyodor. Notes from Underground. Vintage Classics, 1993.
Bockting, Ineke. Character and Personality in the Novels of William Faulkner. University Press of America, 1995.
Hamblin, Robert W. and Charles A. Peek. A William Faulkner Encyclopedia. Greenwood Press, 1999.
Huang, May. "10 Writers Who Use Stream Of Consciousness Better Than Anybody Else." Qwiklit.com22 March. 2016 https://qwiklit.com/2014/03/22/10-writers-who-use-stream-of-consciousness-better-than-anybody-else/
Literary Devices, Terms and Elements http://www.literarydevices.com
Sullivan, John J. "How William Faulkner Tackled Race — and Freed the South From Itself." 28 June. 2012.  http://www.nytimes.com/2012/07/01/magazine/how-william-faulkner-tackled-race-and-freed-the-south-from-itself.html?_r=2
"William Faulkner – Banquet Speech" Nobelprize.org http://www.nobelprize.org/nobel_prizes/literature/laureates/1949/faulkner-speech.html