The last major Hurley update in a blog was Dead Ends, by Mark Salcido. For those of our readers who are familiar with the story behind the missing screenwriter, you know that our previous investigators stuck around long enough until suddenly they were gone. It would seem that they wanted to cease all ties with this mysterious case. But why? In some instances, VM Productions lost all contact with several members of the production and investigative team. Other members, like Lauren Saccone, have refused to answer any more of our questions. In the previous blog, Mark Salcido was advised by Lauren to end the investigation, since "there are more questions than answers to this story, and none of them lead to a good place."  After Mark dropped out of the investigation, I too thought that perhaps there weren't any more leads to follow. When asked to be in charge of the investigation, I thought, at first, that it was smart not to get involved.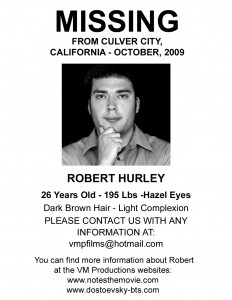 As a writer who is stepping in the shoes of an investigator, I think that it is necessary to dispel any rumors about Robert Hurley's disappearance. However, as a writer who is oddly curious about the way in which clues lead to other clues, but the second clue leads back to the first – a kind of "circular reasoning" – perhaps then some speculation won't hurt. In any case, I think that it is important to start from the beginning… To recapitulate what we know or think we know about the circumstances behind Robert Hurley's disappearance.
We don't know a lot about Robert Hurley's personality, though we can say that, as a writer, he was influenced by Fyodor Dostoyevsky and Vitaly Sumin's passion for bringing the Russian author's works to the screen. Robert was also enthusiastic about learning things first-hand, but we will touch more on that subject later.
Robert Hurley was born July 9, 1982. He was raised in Culver City. Although he graduated from the University of Southern California with a master's degree in computer science, his true calling was that of being a writer. He collaborated with Vitaly Sumin on many occasions before writing the script for Notes from the New World, but it was at the New Playwrights Foundation, a play development workshop, where they first met. For more information on the award-winning film that was adapted from Dostoyevsky's Notes from Underground, click here.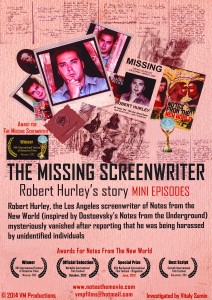 Many hardships were met with the production of Notes from the New World. The worst possible thing that could happen, happened… Robert Hurley was working on the shooting script when suddenly the cast and crew lost all contact with him. He had vanished, and nobody knew why. After weeks of trying to reach out to Hurley, who was in possession of the only copy of the shooting script, VM Productions was at a standstill. The production team was compelled to document the mystery, and they were prepared to pursue an investigation of their own. The cast and crew decided to take their inquiries to the authorities, as well as Hurley's apartment. What they found at the apartment was incredibly troubling.
The apartment was abandoned. The major clue that was left behind was Hurley's journal. The most surprising aspect of the journal that I have learned about so far is stated in a blog that Shari Burckhardt wrote:
When reading the journal, it's impossible to know if this book was used to work out script ideas or if this was a chronicle of his life. Some of the things written in his journal do follow along with things alleged to have happened in his life but other entries seem too farfetched to be real-life, or are they?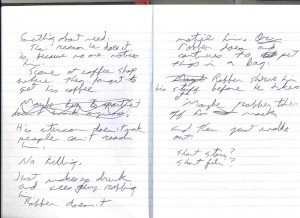 To give the readers some perspective, it would seem as if Robert Hurley was putting himself in the shoes of Dostoyevsky's Underground Man (i.e. the protagonist from Notes from Underground) as a way of researching the part. Hurley reached out to Vitaly's friend, who ran a dating service in Russia. In doing so, he fell in love with a Russian prostitute named Natalya. But the journal is not only an expression of Hurley's love towards Natalya. It is also an expression of anxiety and paranoia. Hurley discovered that Natalya had connections with the Russian mafia.
He also discovered the mafia's ties with an ancient cult called Dark Onto Light, in which prostitutes are ritually sacrificed. Whether Hurley's sinister findings are directly correlated with his alleged kidnapping, we may never know. Some speculate that the reason Hurley disappeared was because Natalya stole money from the mafia; Hurley was executed as punishment for his involvement with Natalya. Unless both bodies are discovered, it would be hard to prove this theory.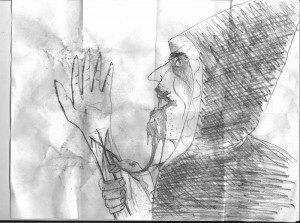 In any case, there are several torn pages that are missing from Hurley's journal. I have no idea what was in those pages, but I know that I would have a stronger footing in this investigation if I were to pursue them. It's probably something significant…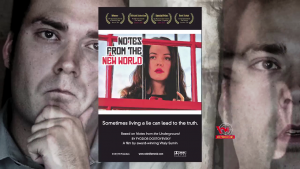 Be sure to visit our website and learn more about Robert Hurley and the film that was made about his experience at Dostoyevsky Reimagined: The Making of Notes from the New World.
Want to know more about what we do? Sign up to learn more about our process, our projects, and upcoming premieres.

Follow this developing story through our social media on Twitter, Facebook, Google+, Pinterest, Tumblr, Instagram, Goodreads.
MORE ABOUT ROBERT HURLEY:
Mark's' blogs:
It only got Stranger and Stranger…
My Attempts to Work with Jord, the Vlogger
Lauren's blogs:
Production Notes: The Plight Of The Vlogger
Production Notes: A New Perspective
Production Notes: Disappearances, Dark Tidings, & Sinister Situations
Production Notes: Changing Seasons, Changing Moods, And What Comes Next
Production Notes: Vlogs, The Missing, And The Fear
Production Notes: What Happened To Robert Hurley?
Production Notes: Incentives, Sign-Ups, And More Mysteries
Production Notes: Saying Goodbye, Staying On Track, & Ominous Signs
Production Notes: Incentives, Updates and the Missing Screenwriter
The Missing Screenwriter: Silence Speaks Volumes
Changes, Updates, & The Missing Screenwriter
Shari's blogs:
The Missing Screenwriter: Dark Onto Light continued
The Missing Screenwriter: Dark Onto Light
The Missing Screenwriter: The Journal
The Missing Screenwriter: Part Two