Every time I think things couldn't get any stranger, I'm once again proven wrong. Working on Dostoyevsky Reimagined: The Making Of Notes From The New World is a sincere experience on its own. Promoting and raising awareness for this unique look behind the scenes of an independent film production company continues to be an adventure unlike any other — and yet it still manages to be the least unusual aspect of this job.
But before I address the complications with this project, let's take a look at the positives. Henry Palmer's vlogs continue to offer a fun and insightful look into the production, and are a truly fascinating take on VM Productions. Our Members Only section continues to be packed chock-full of fun information, exclusive content, and exciting incentives for fans. If you're missing out on this, sign up for our FREE newsletter now to keep up with the latest news on Dostoyevsky Reimagined.
All in all, this fascinating and singular project is drawing closer to being shared with the world. That being said, this experience has not been without its issues. Take a look at the stills below. They are taken from VM Productions' private video journals documenting our search for Robert Hurley (the selected video material is available in our  "Members Only" section).
| | | |
| --- | --- | --- |
| | | |
In between talking with fans about this exciting project and managing the social media side of promotion, there have been some bumps in the road that threatened to derail everything. Once again, we're having people mysteriously drop from the project (click on this link for the pictures of the former cast and crew). Some have resigned, which would normally not be worthy of even mentioning. But their sudden change of heart (and hasty departures) have almost always coincided with a new blog post (or indeed, any new information) regarding the mysterious disappearance of screenwriter Robert Hurley. Others have disappeared without a trace. Take a look at their photos:
Longtime fans of VM Productions (and followers of this blog) know that Robert Hurley, the screenwriter behind Notes From The New World disappeared under extremely strange circumstances just before the start of filming, leaving the movie in crisis and the crew in a panic. Since then, I and my predecessors have been attempting to piece together the scant evidence and find out what really happened to Hurley.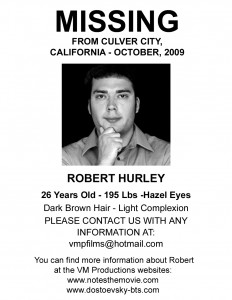 The abrupt departure of several excellent members of our team certainly hasn't made my investigation any easier. When I asked them why (those I could steal reach, anyway), some were evasive. Others were outright hostile. All seemed afraid.
In my spare time (what little I have), I've been rereading the classics of Dostoyevsky and poring over Robert Hurley's notes. It makes for sinister and unsettling reading, watching his mind deteriorate and his paranoia overwhelm him.
Although I wonder if he really was all that paranoid, sometimes. His investigations into the cult Dark Onto Light that haunted him start out so concise and eloquent, before they begin to fall apart. He printed out pictures of imaginary friends and pasted them into his journal; a fact that sticks with me.

I may not be any closer to working out what happened to Hurley, but I have learned a lot about this cult.
Its history is dark and complicated, and its followers exist in all walks of life. If it exists at all —  sometimes I wonder if it was nothing more than paranoia. Then I remember the sudden disappearances, strange circumstances, and unexplained attempts to hack into our website, and I wonder if paranoia is so bad after all.
 Be sure to visit us at home and sign up for our
free newsletter
at
Dostoyevsky Reimagined: The Making of Notes from the New World
. You'll gain exclusive access to our members-only content.
Follow this developing story through our social media on Twitter, Facebook, Google+, Pinterest, Tumblr, and Instagram.
MORE ABOUT HURLEY:
Lauren's blogs:
Production Notes: Incentives, Updates and the Missing Screenwriter
The Missing Screenwriter: Silence Speaks Volumes
Changes, Updates, & The Missing Screenwriter
Shari's blogs:
The Missing Screenwriter: Dark Onto Light continued
The Missing Screenwriter: Dark Onto Light
The Missing Screenwriter: The Journal
The Missing Screenwriter: Part Two
The Missing Screenwriter: Part One
If you have any information that could help us find Robert Hurley please contact VM Productions office. Please sign up by clicking here