Remember when I said things behind the scenes have been getting stranger and stranger? I spoke too soon. Now I look back on those days as the Golden Age, when things were simple and most of the mystery was separate. But let me explain.
As followers of VM Productions and this blog know, in between promoting Dostoyevsky Reimagined: The Making Of Notes From The New World, I've been doing some research into the disappearance of Notes screenwriter Robert Hurley. This has involved some strange twists and turns: investigating a secret cult that may or may not exist solely in his mind, reading his disturbing and disturbed journal entries, and trying to separate fact from fiction.
It's weird enough (and unsettling enough) on its own. Hurley's journals and notes are a clear and disturbing picture of a mind collapsing in on itself. Frankly I've been dubious about how much of the cult was real, and how much was simply Hurley's attempts to meld fiction into his real life. Notice I'm using the past tense.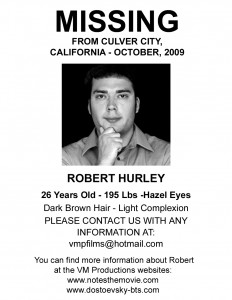 This week VM Productions got two strange emails. That's not unusual in and of itself (we tend to get spam galore). But these were of a different nature. For one thing, both mentioned Robert Hurley in the subject line (which is why I didn't delete them straightaway). Both emails claim to have exclusive insight and evidence into what really happened to the screenwriter. I admit, I was intrigued.
The first email claims to have come from a source that is 'reluctant to disclose its identity). The terse text promises that if contact is made, the writer (who alludes to having been in close contact with the screenwriter throughout his disappearance) will tell me how Robert Hurley met his end. The rambling, disconnected email had enough clues and hints that appear in his journals to make me believe it warrants a second look.
Within minutes of the first email, I received the second. This one was presented in polite tones and coherent prose. Its author started the email with this line: 'Hello, this is Robert Hurley. I believe you've been looking for me.'
Now I've seen enough movies to be extremely dubious about both of these emails. But the so-called Hurley missive was written in an almost identical fashion to those letters and notes he wrote before his disappearance. Everything from the style to the language sounded like Hurley. The second email promises to explain what happened, and why he had to vanish.
This situation leaves me in something of a quandary. There are three options, as far as I can see:
The first letter is a lie.
The second letter is a lie.
Both letters are lies.
Then there is the strange timing — the emails arrived within minutes of each other. The email addresses are different, but that's not too hard to fake. A little IP research did let me get a rough idea of where the letters originated, but that's only added to my conundrum.
You see, one appears to have arrived from St.Petersburg, Russia, where Hurley was rumored to have been spotted. The other originated from Los Angeles.
I've responded to both letters, and tried to turn my focus to the movie — promoting incentives, getting sign-ups for our mailing list, and the day-to-day activities of VM Productions. But truth be told, I'm really just waiting for a response. And meanwhile, the inbox remains empty.
To listen to the message left on Robert Hurley's answering device – please click here
Be sure to visit us at home and sign up for our free newsletter at Dostoyevsky Reimagined: The Making of Notes from the New World. You'll gain exclusive access to our members-only content.
Follow this developing story through our social media on Twitter, Facebook, Google+, Pinterest, Tumblr, and Instagram.
MORE ABOUT HURLEY:
Ngoma's Vlog:
Lauren's blogs
:
Production Notes: Incentives, Sign-Ups, And More Mysteries
Production Notes: Saying Goodbye, Staying On Track, & Ominous Signs
Production Notes: Incentives, Updates and the Missing Screenwriter
The Missing Screenwriter: Silence Speaks Volumes
Changes, Updates, & The Missing Screenwriter
Shari's blogs:
The Missing Screenwriter: Dark Onto Light continued
The Missing Screenwriter: Dark Onto Light
The Missing Screenwriter: The Journal
The Missing Screenwriter: Part Two
The Missing Screenwriter: Part One
If you have any information that could help us find Robert Hurley please contact VM Productions office. Please sign up by clicking here