There's nothing worse than the feeling that someone is out to get you. It's probably what Robert Hurley thought right before his disappearance. He was already knee deep in the Russian mafia's affairs. He was swimming in gambling debts, and his girlfriend, Natalya? She supposedly stole money from her mob boss. Oh, and Hurley also witnessed the ritualistic practices of Dark Onto Light. A sane person wouldn't meddle any further, but Hurley wrote two scripts – Notes from the New World and Shades of Blood – that revealed the satanic cult's secrets and aspects of the Russian mafia's operation. The Russians were almost immediately aware that Hurley portrayed their organization in a negative light. Who wouldn't want Hurley removed from the world?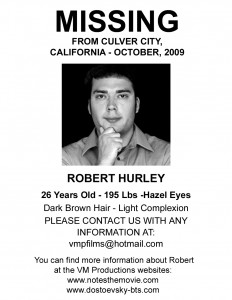 The thing about the Russian mafia is that there are hundreds of different gangs with thousands of different members. One of these organized groups have branched out into the supernatural. Whether Dark Onto Light is merely an affiliate of the unknown gang, or is a part of the gang in every regard, it is hard to say. The question on my mind is how the cult is able to retain their privacy.
For thousands of years, they have succeeded in keeping all of their activities exclusive. Somehow, Hurley managed to reveal the cult's origin and historic development, but nobody really believes him. Hurley's untimely disappearance, and the lack of clues in his apartment, suggests that his research into Dark Onto Light could very well be fiction.
Or was the lack of information in Hurley's abandoned apartment a smokescreen? If so, the coverup would have taken a lot of skill and a lot of forethought. To employ a qualified group of criminals into the field, you need an organization that makes a lot of money, and you need a leader who knows how to pull out all the stops.
Then, consider how much support Dark Onto Light would need to keep the attention away from the authorities and the public eye. This is a cult that does not hide in the shadows… How could it? If you are always moving around (i.e. always changing the location of the ritual), you're bound to leave a trace at some point.
This is my Eyes Wide Shut theory. In the criminal world, privacy is everything. Although the film's ritual wasn't exactly illegal, the point that I'm making is that privacy is retained through wealth and property. You can almost get away with anything if you have enough money.
For a moment, lets say that the leader of Dark Onto Light conducts the monthly sacrifice within the confines of their own home. Nobody gets in or out of this "mansion" without security clearance. The leader of the cult leads a double life. He's a respected entrepreneur, but behind the mask, he is a criminal. No one suspects that he is the Russian mafia, but he gets away with it. Every business operation of his is a front for money laundering, but the only person who knows it is the bookkeeper. From where is the majority of the money coming?
Based on Hurley's journal entries, we can reasonably assume that the Russian mafia is involved in illegal gambling, prostitution, and kidnapping. There's probably more to it than that. Whatever the case may be, someone is smart and powerful enough to coverup Dark Onto Light's crimes. I want to get to the bottom of it as soon as possible. Some field work is necessary, and in a few weeks, I hope to have something tangible.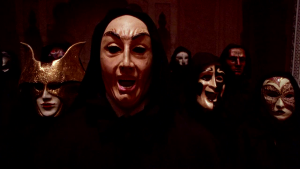 Be sure to visit our website and learn more about Robert Hurley and the film that was made about his experience at Dostoyevsky Reimagined: The Making of Notes from the New World.
Want to know more about what we do? Sign up to learn more about our process, our projects, and upcoming premieres.

Follow this developing story through our social media on Twitter, Facebook, Google+, Pinterest, Tumblr, Instagram, Goodreads.
Ford's' blog:
The Missing Screenwriter: Relevant Patterns
The Missing Screenwriter: When Darkness Becomes Light
The Missing Screenwriter: Diary of a Madman
The Missing Screenwriter: What We Know So Far
Mark's' blogs:
It only got Stranger and Stranger…
My Attempts to Work with Jord, the Vlogger
Lauren's blogs:
Production Notes: The Plight Of The Vlogger
Production Notes: A New Perspective
Production Notes: Disappearances, Dark Tidings, & Sinister Situations
Production Notes: Changing Seasons, Changing Moods, And What Comes Next
Production Notes: Vlogs, The Missing, And The Fear
Production Notes: What Happened To Robert Hurley? 
Production Notes: Incentives, Sign-Ups, And More Mysteries 
Production Notes: Saying Goodbye, Staying On Track, & Ominous Signs 
Production Notes: Incentives, Updates and the Missing Screenwriter
The Missing Screenwriter: Silence Speaks Volumes
Changes, Updates, & The Missing Screenwriter 
Shari's blogs:
The Missing Screenwriter: Dark Onto Light continued
The Missing Screenwriter: Dark Onto Light
The Missing Screenwriter: The Journal
The Missing Screenwriter: Part Two