Last week, with Vitaly Sumin's help, I uncovered the missing pages from Hurley's journal. They were locked up in a safety deposit box that was supposedly purchased by Hurley himself. It's been over seven years since the screenwriter went missing. Since that time, there have been several moments when Hurley reached out to our investigators, but never directly. This was another instance in which he has avoided contact. But why?
Hurley must have known that our investigation into his disappearance has reached many dead ends. Every time new information appears, I wonder about the legitimacy of the Russian mafia's involvement with Dark Onto Light. If they wanted Hurley dead, he would be dead. And yet, someone out there is telling us that Hurley is alive. In other words, Hurley may never have been kidnapped in the first place. If this were true, the missing screenwriter is on the run. He has been on the run since the Russians discovered Hurley's willingness to uncover the cult's secrets.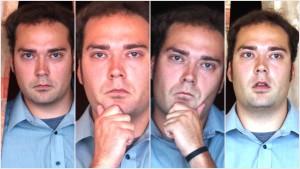 The missing pages from the journal were left to us for a reason. At this point, I can't exactly owe any credence to helpfulness of the new information. Whether there is any truth to it, I decided to investigate the shipping container lead. Hurley mentioned that Natalya brought him to a port in San Pedro. Out of the dozens of mob operations, she showed him perhaps their cruelest undertaking: human trafficking. She wanted to save him – to give him the chance to back down.
It is also a double-edged sword. She showed him that there is nothing Hurley can do to bring down the organization. He would be better off leaving it all behind. To save Hurley from getting hurt would be a selfless act. However, leaving Natalya to suffer alone would be selfish in his eyes. She didn't expect that he would be even more adamant about saving her from the eternal bondage.
I went to three ports/marinas in San Pedro to investigate suspicious activity. With the help of some of my friends, I conducted surveillance on the boats that delivered items to America from Russian territory. I also got permission to check various records of shipping containers (from Russia) and their inventory. Ultimately, I came up short. There was nothing suspicious happening.
---
---
Obviously, Hurley wrote the journal entries seven years ago. The Russians could have changed locations when they figured out that Hurley was a nuisance. Whatever the case may be, there wasn't a trace to follow.
Then, there's the mysterious email that I received after my brief stint in San Pedro:
You don't know me, but I've also been following the investigation into Hurley's sudden disappearance. I have new information. If you would allow, I think we should meet.
I figured the email was some kind of hoax. The person who claims to know something about Hurley didn't actually leave his name, so I didn't bother. A couple days later, I received another email from the same person, who clarified his reason for contacting me. This time, he did provide his name…
Four years ago, my wife was denied her green card due to a legal discrepancy. I already had my green card, so I could travel to America at any time. I should have been more patient, but I wasn't there when she needed my help the most. She decided to make a deal with a Russian organization that helps bring immigrants into America. What they didn't tell her was that she had a much greater debt to pay. It wasn't just a business for these people, it was insurance. I followed her trail to a club where she made that deal. I was threatened. If I tried to find her, they would slit her throat in front of me. I had no choice but to back down. She was pregnant…
I traveled to America and kept my distance. I learned everything that I could about the Russian organization, and I combed through various reports about similar incidents. At one point, I heard about the Hurley investigation…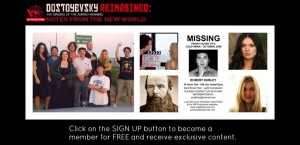 The email goes on. To sum it up, the man wants my help to find his wife. In return, he will share new insights about Hurley that we have missed. Assuming what he told me is true, I will keep his name out of the blog. From what I can tell, a man who isn't desperate wouldn't share this information with me. He fears his wife's death, but he has also reached a breaking point. In other words, he doesn't want to compromise himself by getting too close. So he contacted me.
It's always possible that this is some kind of trap, but it would be foolish of me as an investigator to ignore his appeal. I guess I am curious enough to set up a meeting with this man.
Be sure to visit our website and learn more about Robert Hurley and the film that was made about his experience at Dostoyevsky Reimagined: The Making of Notes from the New World.
Want to know more about what we do? Sign up to learn more about our process, our projects, and upcoming premieres.

Follow this developing story through our social media on Twitter, Facebook, Google+, Pinterest, Tumblr, Instagram, Goodreads.
Ford's blog:
The Missing Screenwriter: Cloak-and-Dagger
The Missing Screenwriter: An Inside Job
The Missing Screenwriter: Eyes Wide Shut
The Missing Screenwriter: Relevant Patterns
The Missing Screenwriter: When Darkness Becomes Light
The Missing Screenwriter: Diary of a Madman
The Missing Screenwriter: What We Know So Far
Mark's' blogs:
It only got Stranger and Stranger…
My Attempts to Work with Jord, the Vlogger
Lauren's blogs:
Production Notes: The Plight Of The Vlogger
Production Notes: A New Perspective
Production Notes: Disappearances, Dark Tidings, & Sinister Situations
Production Notes: Changing Seasons, Changing Moods, And What Comes Next
Production Notes: Vlogs, The Missing, And The Fear
Production Notes: What Happened To Robert Hurley? 
Production Notes: Incentives, Sign-Ups, And More Mysteries 
Production Notes: Saying Goodbye, Staying On Track, & Ominous Signs 
Production Notes: Incentives, Updates and the Missing Screenwriter
The Missing Screenwriter: Silence Speaks Volumes
Changes, Updates, & The Missing Screenwriter 
Shari's blogs:
The Missing Screenwriter: Dark Onto Light continued
The Missing Screenwriter: Dark Onto Light
The Missing Screenwriter: The Journal
The Missing Screenwriter: Part Two